Planning and booking your Serengeti safari tour can be done with a Tanzania Serengeti safari operator, an international travel agent or directly through a camp or lodge in the Serengeti. Booking through a tour operator offers you the comfort behind having to fly into Tanzania then transfer straight to the Serengeti for the safari of your dreams without having to worry about the ground work but rather enjoy a seamless safari.
Booking through an international travel agent at home also offers you the chance to have an expert plan your Serengeti tour, whoever, most international travel agents have direct contacts with ground Tanzania safari companies who will handle your trip therefore booking your Serengeti safari directly through a local operator in Tanzania will be cheaper.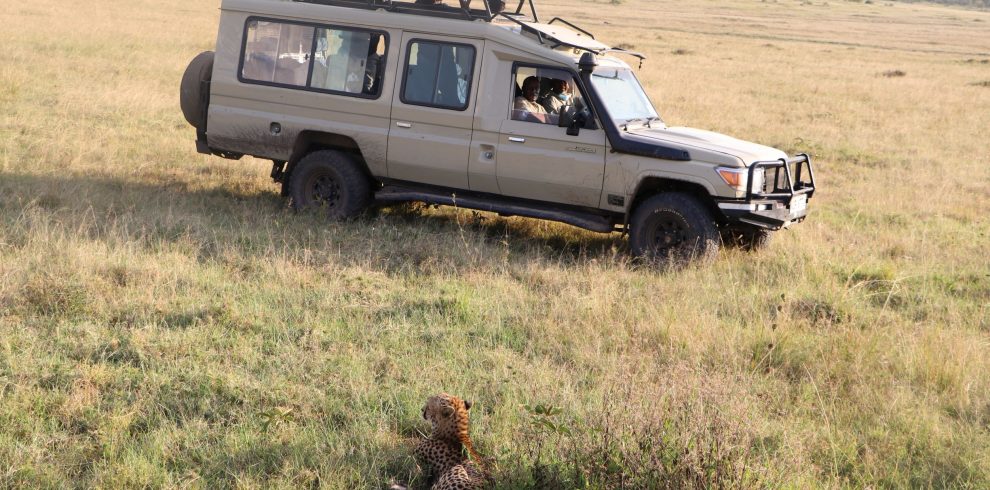 Planning and booking your Serengeti safari tour is something we advise you should do in advance before arriving into Tanzania, this will ensure you book a spot at the top notch lodges and camps especially if you are planning to visit during the peak season
WHAT WILL YOUR SERENGETI SAFARI TOUR COST?
Most Serengeti safari quotes cover transport to and from the park, accommodation, park entrances, service of a safari guide, drinking water on board, however confirm these price inclusions with your Serengeti safari tour operator before booking. Drinks and beverages are often excluded. If you are booking your Serengeti safari tour directly with a lodge or camp in the Serengeti, you maybe quoted full board accommodation prices, if these prices apply then you will have to pay an extra to go on game drives, there is usually a chance for 2 activities per day. (each about two to three hours)
It is advisable to book the "game package" as offered by your Serengeti safari lodge or camp; this packages covers accommodation and 2 activities each day, if you will be flying into the Serengeti, this package may also cover pick up and drop-off from the closest airstrip in the Serengeti. It is important to note that for these wildlife activities as offered by the lodge or camp will be shared with other guests. The general cost of your Serengeti safari tour as offered by your preferred operator will depend on the type of safari you will opt for; types of Serengeti safaris vary from Budget, midrange and luxury safaris.
BUDGET SERENGETI SAFARIS
Budget Serengeti Safari tours are usually camping safaris or safaris accommodated in basic tented camps located outside the Park to minimize on costs. A budget safari in Serengeti costs anywhere from USD 250 to USD 350 per person per day with a reputable Tanzania Serengeti safari tour operator
MIDRANGE SERENGETI SAFARIS
Midrange Serengeti safari tours are accommodated in comfortable lodges and camps in the Serengeti. These Serengeti safari tours are highly recommended as they offer comfort, are reliable and offer a reasonable value. Midrange safaris in the Serengeti cost from USD 350 to USD 450 per person per day with room sharing.
LUXURY SERENGETI SAFARIS
Luxury Serengeti tours accommodated in private high end lodges and tented safari camps. These Serengeti safaris aim at offering you a private, authentic and personal bush experiences with high end comfort. Expect a wide range of amenities with top quality safari guiding. A luxury Serengeti safari tour costs from USD 450 and above per person per day with room sharing.
CHOOSING YOUR SERENGETI SAFARI TOUR ITINERARY
Serengeti National Park can be explored with a minimum of 3 Days (2 Nights) in the park, luckily, Tanzania is blessed with some of the world's most epic adventures, and at Masai Mara Holidays Limited, we always advice our visitors to combine a Tanzania safari Serengeti with the Popular Northern Tanzania safari circuit comprising of major highlights such as a Mount Kilimanjaro climb, or a continued visit to Ngorongoro Conservation Area or relaxing on a beach holiday in gorgeous Zanzibar.
You can also checkout our carefully crafted Serengeti safari tour itineraries that feature the best of Tanzania, Uganda, Kenya and Rwanda's major Safari landmarks. One of manys favourite Serengeti Safari additions is a journey to the Ugandan or Rwanda highlands to meet rare mountain gorillas. Here you get up close and personal with these gentle primates in a remote, mountainous jungle environment. For those with the time, these nearby adventures can complement your Serengeti safari fantastically.
SERENGETI AND THE NORTHERN TANZANIA SAFARI CIRCUIT
This popular Serengeti safari tour itinerary starts with flying in Kilimanjaro International Airport then Arusha to spend a week exploring the Serengeti combined with Northern Parks. The best wildlife viewing opportunities are combined with a visit to Ngorongoro Crater, Lake Manyara National Park and Tarangire National Park. Alternatively this Serengeti tour itinerary can be coupled up with a Kilimanjaro climb or Ol Donyoi Lengai which could come first before the safari. Further adventures can include a beach relaxation experience flying to Zanzibar from Moshi or Arusha to visit stone town and one of Zanzibar's Island beaches Pemba, Matemwe or Jambiani.
CHOOSING YOUR SERENGETI LODGE OR CAMP
The Serengeti is served by a number of lodges and camps ranging from small lower scale to high end accommodations to fit any budget for Safari in Senegeti. Seronera is the busiest area for tourists, with heavy safari vehicle traffic, while the northern Serengeti is much quieter.
The choice of your camp or lodge in Serengeti must ultimately be led by the Migration timing. There is no point in being in the Western Corridor if the animals are on the southern plains, or booking you Serengeti tour in the south when the animals are crossing the Mara in the north. The unpredictability of the rains makes it impossible to guarantee that you'll be in the midst of the Migration for your Serengeti safari tour, but with a good ground Serengeti safari operator, you should be within striking distance.
Alternatively if you can afford the luxury price then book your Serengeti safari tour with one of the camps that set up mobile luxury camps in locations that follow the seasonal migration of Serengeti's super herds. There is simply no better way to experience a Serengeti safari than to book a few nights in one of the luxury tented camps that move, following the general pattern of the Migration. Most of these camps are set up in the northern Serengeti from June and July to October and November, and move south to the short-grass plains around Ndutu from December to March, after which they close down for tent maintenance and upgrades during April and May.
Book your accommodation early, particularly if your choice is likely to be close to the migration. Places outside the park's western boundary, including some on the shore of Lake Victoria, are cheaper for a Sernegeti safari, but – with the exception of those just outside Ikoma Gate – see next to no plains game. You're welcome to drop in for lunch at some of the lodges – Lobo Wildlife Lodge, Serengeti Sopa Lodge and Seronera Wildlife Lodge are particularly recommended, not so much for their cuisine, which is buffet style ($30 per person), but for the amazing views. Much cheaper meals can be had a several hotelis near the Visitor Centre in Seronera, mainly used by park staff.
CAMPING IN THE SERENGETI
The most atmospheric (and nerve-jangling) Serengeti Safari tours are camping safaris which overnight to camp at one of several public campsites in The Serengeti. More remote are a scatter of special campsites, which have no facilities whatsoever. Reservations for special campsites are handled by the park headquarters, or by TANAPA headquarters in Arusha, though they are very difficult to book in advance by yourself – you may strike lucky if you enquire at the park gate on arrival. If you're self-driving, the car hire company should be able to find out what's available, and may even book it for you
LOBO PUBLIC CAMPSITE
Located at the foot of a kopje, with fantastic views over the plains to the east, 76km north of Seronera, 300m northeast of Lobo Wildlife Lodge is Lobo Public Campsite. There are decent bathrooms at the camp, but the showers are cold, and nights are chilly at 1800m above sea level. You can pop over to Lobo Wildlife Lodge, on top of the next kopje 300m southwest, for lunch or drinks. Per person $30
SERONERA PUBLIC CAMPSITES
Located 6–7km northeast of Seronera Visitor Centre by road is the Seronera public Campsite. There are five campsites in two clusters: Dikdik and Pimbi in the west, Nyani, Ngiri and Tumbili in the east. Each has its own bathroom with good showers, and a fenced-off kitchen and dining banda, but the campsites themselves are not fenced so wildlife including lions comes and goes. Exceptionally (driving is normally forbidden after 7pm), campers are allowed to drive to Seronera Wildlife Lodge for dinner ($30), but have to be back by 10pm.
THE SERENGETI
The Serengeti derives its name from the local Maasai word meaning 'land of endless plains. For centuries, the Maasai people have shared this dramatic landscape with its wildlife and earned a fearsome reputation as warriors and skilled cattle herders. Like much of the wildlife you witness on your Serengeti tour, these semi-nomadic Maasai followed the rains.
THINGS TO DO IN SERENGETI NATIONAL PARK
Among the various activities to embark on your Serengeti safari tour, wildlife drives are the main activity here. Many visitors would says they are the main reason for a Serengeti safari.
WILDLIFE DRIVES
Wildlife Drives for your Serengeti safari tour can be organized by a Tanzania Serengeti safari operator, a lodge or camp in the Serengeti or even self-driving. Wildlife drives in the different sections of the Serengeti have constantly proven to be the most enjoyable things to do on an African safari. Exploring the Seronera, Grumeti and Western corridor, Northern and Central Serengeti requires careful planning. Before concluding on your Serengeti safari tour plan, you need to understand which area of the Serengeti offers the best wildlife viewing opportunities at a certain time of the year. With the help of a reputable Serengeti tour operator, this will ensure you are booked in the right place at the right time to maximize your chances of an unforgettable experience.
How can you maximise your chances of a spot?
Most importantly is the length of time you spend on safari. And this goes for all wildlife spotting in the park. In the company of an experienced good guide like our very own at Masai Mara Holidays, you will likely see a comprehensive variety of animals within two to three days. Lion, elephant and Cape buffalo thrive in strong numbers throughout the park. And, in fact, the Serengeti holds the largest population of lions in Africa, numbering 3,500 in 300 prides.
However, the elusive leopard and black rhino may need a little more time or luck. Leopards are most abundant in the Seronera Valley and can usually be spotted shading in the branches of acacia trees. The eastern black rhinoceros is most frequently spotted near granite outcrops known as 'kopjes' in the centre of the park. We also recommend venturing into neighbouring Ngorongoro Conservation Area for those keen to boost their chances of a spot. Conveniently, most of our crafted Serengeti safari tours pass through as part of a safari itinerary.
WALKING SAFARIS
Walking safaris are a newly introduced activity in the Serengeti. Multi Day camping Serengeti walking safari trips are available around the Moru Kopjes, Kogatende and other parts of the Serenegti. Furthermore, shorter custom made trips from 2 hours can be arranged as adding for your Serengeti safari tour. The experience offers you a chance to discover the Serengeti in depths rather than spotting lots of huge animals. Serengeti walking tours are always accompanied by a guide, who is armed and with whom you will be required to walk in close proximity with.
HOT AIR BALLOON SAFARIS
There is no better way to experience a Serengeti safari than coupling the adventure with a hot air balloon ride. The experience takes you floating over he vast plains for an hour and you enjoy a sun rise with various wildlife sightings from an aerial view. This is later followed by a luxury bush breakfast highlighted with champagne under an acacia tree. To ensure a booking, reserve with your Serengeti safari operator in advance.
SERENGETI MIGRATION
The Serengeti owes its hallowed place in our imagination to the annual 800km migration of over 2.5 million animals, the largest mammalian migration on earth. A continuous, milling and unsettled mass, including almost two million wildebeest and close to a million other animals, the migration offers Serengeti safari goers one of nature's most staggering displays, one in which the ever-vigilant predators – lions, cheetahs, African hunting dogs and spotted hyenas – play a vital part. The river crossings are the biggest obstacle, namely the Grumeti in Serengeti, and the Mara along the border with Kenya in the north, and both can be the scene of true carnage as the panicked herds struggle across the raging flows in a writhing mass of bodies while the weak, injured or careless are picked off by crocodiles and lions.
The migration's ceaseless movement is prompted by a seasonal search for fresh water and pasture dictated by the rains. It moves in a roughly clockwise direction, concentrating in the national park from April to June, towards the end of the long rains, before leaving behind the withering plains of the Serengeti and journeying northward towards the fresh moisture and grass of Kenya's Maasai Mara Game Reserve, which the migration reaches in August. By September and October, the bulk of the migration is concentrated in Maasai Mara. By late October and early November, the Mara's grasslands are approaching exhaustion, so the migration turns back towards northern and eastern Serengeti, following the fresh grass brought by the short rains.
In this period, the migration is widely spread out, and a large part of it circles through Loliondo and into Ngorongoro, beyond the Serengeti's eastern border. From December to March, the migration settles in the Serengeti Plains and western Ngorongoro, where it remains until the onset of the long rains. The wildebeest take advantage of this temporary pause to give birth (especially from late Jan to mid-March), accounting for half a million calves annually. The timing of this mass birthing provides security in numbers: predators will eat their fill, but within a few months, the surviving calves are much stronger and able to outrun their pursuers; nonetheless, the hazards of the migration are such that only one in three calves makes it back the following year. By April, the Serengeti migration is once more concentrated inside Serengeti, and the whole cycle starts again. The exact time and location of the migration varies annually, depending on the rains and other factors, so coinciding with it cannot be guaranteed.
Nonetheless, as a general rule, the best months for seeing the migration on your Serengeti Safari Tour is from December to July, especially February and March in the plains when the wildebeest herds are dotted with newborn, and April to June when animal concentrations are at their highest. June is also the best time for catching the migration's perilous crossing of the Grumeti River, while the spectacular Mara River crossing, best seen from Kenya but also in northern Serengeti, is at its most awesome (and gruesome) in July and August. Taking into account the weather, the dry months of June and July, and usually also January, are probably the best time to visit for your Serengeti safari, with the bulk of tourists coming in Dec–Feb and July–Aug
EXPLORING THE SERENGETI
The Serengeti is divided into various parts and it each section of the part rewards differently at a certain time of the year. Ensuring you are placed the right place for the Serengeti safari of your dreams at the right time of the year is a major key to the best wildlife encounters for your Serengeti tour.
CENTRAL AND SOUTHERN SERENGETI
Central Serengeti is the most visited area of the park, this section is readily accessed by road from both Arusha and from Mwanza via the Western corridor. The main action area is Seronera, it is also the part with the major lodging in the park. South east of Seronera is the Ngorongoro Conservation Area boundary and lake Ndutu is a prime base for an arranged Serengeti Safari tour during December to April wet season as wildlife is in high concentration here when it is full of wildebeests. In addition to the wildebeests, it is also notable for its Serengeti Safari lion and leopard sightings, especially around the Moru Kopjes area, which has a substantial resident wildlife population year round.
NORTHERN SERENGETI
Serengeti safari to the northern section takes you to the hilly and more heavily vegetated part of The Serengeti. Northern Serengeti receives less visitors, but makes a fine base for a Serengeti Safari Tour in between August and October, when the wildebeests migration passes through.
WESTERN SERENGETI
Apart from the designated park camp sites, the western Serengeti is the major area for basing a budget Serengeti safari tour. Most budget accommodation options are located here (mostly out of the park) The Western section has a seasonal proximity to the wildebeest migration as the herds pass through the area from around May or June. Western Serengeti offers the forest fringed Grumeti river, a landmark to explore on your Serengeti safari tour as it rewards reliable all year round wildlife viewing. Along the banks of Grumeti River, you will find hippos and giant Crocodiles.
Game viewing on your Serengeti safari tour here is good throughout the year, but it peaks from july to september, when the migration stalls in the vicinity of the mara, and large herds of wildebeest regularly cross between the banks of the Grumenti and Mara rivers. The area is favoured by buffalo and elephants, and the hills host several large lion prides. cheetahs and bat-eared foxes are also quite common, while the rocks provide refuge to the localised klipspringer antelope, and the spectacular black (verreaux's) eagle. the wildebeest migration usually passes through in july
BEST TIME TO VISIT SERENGETI NATIONAL PARK
Wildlife concentrations are greatest between December and June which makes it the best time to embark on your Serengeti Safari Tour, although the Serengeti can be visited rewardingly any time of the year. If you are keenly interested in the wildebeest migration, the best base for your Serengeti tour is about April to December is Seronera Area or the Southern part of the park. The migration river crossing at Grumeti River runs through the parks western corridor, usually happens between May and July, although the viewing window can be quite short. In particularly dry years, the migrating herds tend to move northwards sooner, avoiding or skirting the western corridor. Northern Serengeti is a good base during the dry season, particularly between August
HOW BIG IS THE SERENGETI?
Serengeti National Park covers an area of 14,6763 sq km and is continuous with equally wildlife rewarded Masai Mara National Reserve in Kenya. The two parks are separated by a border in an area known to have the peak action of the great migration as the herds make their way from Northern Serengeti into Masai Mara Kenya.
HOW TO GET TO SERENGETI NATIONAL PARK?
Serengeti National Park can be accessed both by Road and by air. Road transfer is a 3 to 4 hour drive from Arusha of Moshi, this is also the commonest options for Serengeti safari tour goers. Flights to Serengeti are also available and they depart daily from Arusha and land to various airstrips within the Serengeti including Seronera and Grumeti. Major Aviation flight operators are Air Excel and Coastal Aviation.
WHAT TO PACK FOR YOUR SERENGETI SAFARI TOUR?
There is some science behind the khaki earth tones. These neutral colours repel the heat, and do a good job of disguising any splotches of African dust and soil. Two colours to avoid are blues and blacks; these have been found to attract tsetse flies. Not what you need in your life during safari. In terms of fabrics, light and breathable materials make life so much more comfortable. However, do bear in mind that as the sun falls, temperatures cool considerably. This comes as a surprise to many visitors, considering the Serengeti sits a stone's throw from the Equator. But long sleeves are very wise for camp.
For a full packing list, consider the essentials such as a binoculars, a lens camera, insect repellant, safety boats. The main takeaway here is that you really don't want to feel uncomfortable out on safari. Getting sunburnt, bitten or feeling clammy can be irritating and can take your focus away from the wildlife. So it is best coming prepared. For those hoping to capture excellent photography out on safari, equipment is key. The truth is that a smartphone, or basic point-and-shoot, won't really cut it.
You will see plenty of wildlife up close, but a strong digital zoom or a lens with a focal length of at least 200 millimetres and above is necessary for more distant shots. This may sound controversial, but my best advice for those lacking in the right equipment, would be to put your camera or smartphone down, and soak it up with your eyes. And a quick note on drones: drones are have to be first accepted which comes with an additional fee paid in the Serengeti National Park, or else they will be confiscated.