Accommodation Lodges and Camps in Western Serengeti
Serengeti Serena Safari Lodge
Serengeti Serena Safari Lodge is an award-winning gem of a hotel in one of the most beautiful settings in Tanzania. Seamlessly blended high into an acacia-lined ridge, our African-style lodge and infinity pool offer panoramic views across the Serengeti's vast, endless grasslands, where lions and cheetahs stalk their prey and massive migrating wildebeest herds darken the landscape in a relentless search for fresh grazing grounds.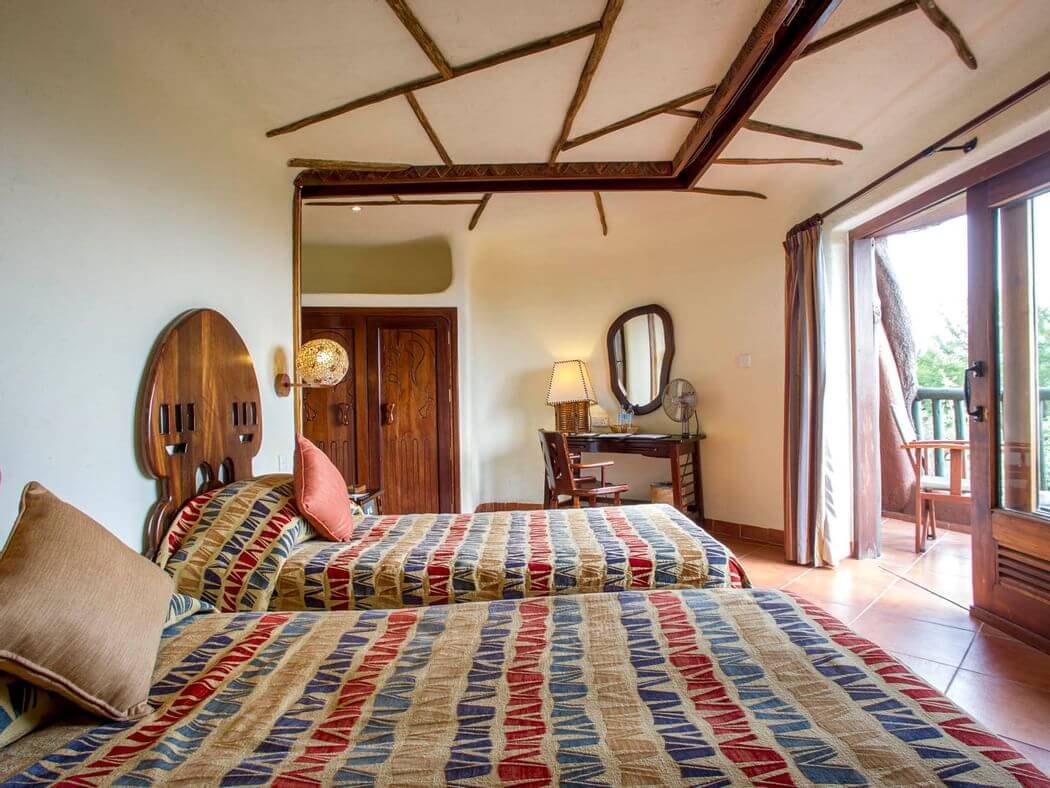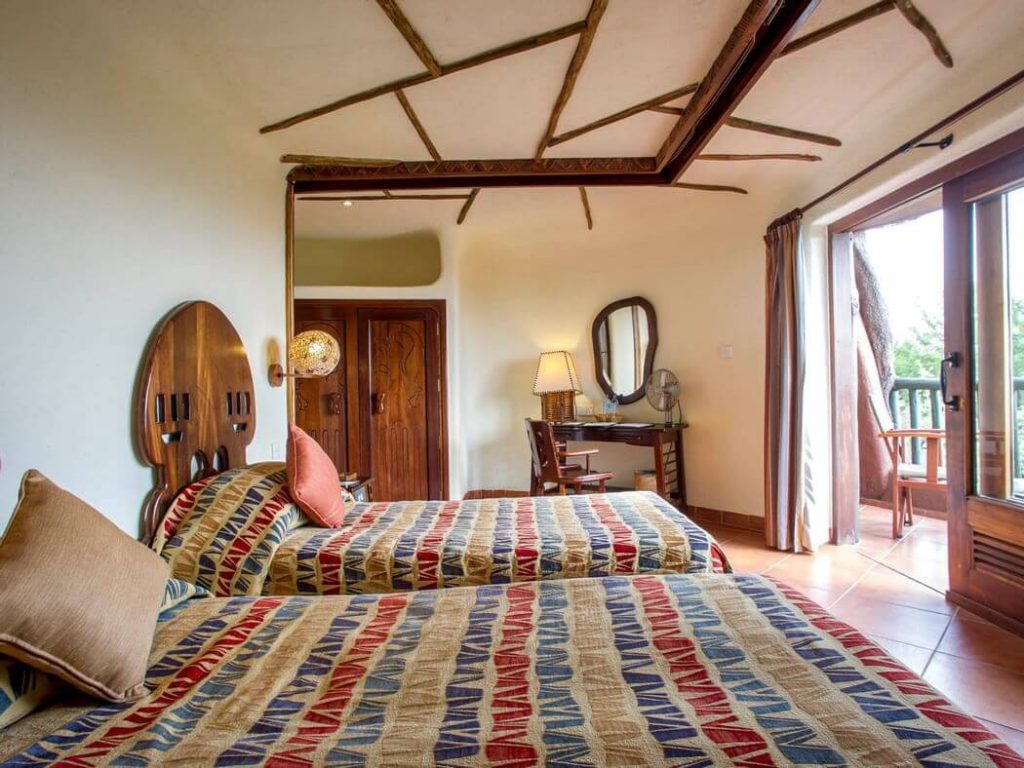 Facilities
Infinity pool overlooking the plains
Traditionally-carved, domed dining room
Individual 'rondavel' rooms with private balconies
Scenic safari bar with timbered terrace
Private bush camp overlooking the migration
Central barbeque area and water gardens
Set high on a hill with the rolling plains below forming a natural amphitheater, the room offer a ringside seat for the greatest show on earth, the annual migration of the wildebeest. Sweeping views, traditional stone-built and thatched architecture and private balconies immerse you in the stunning beauty and solitude of Serengeti National Park.
Located adjacent to the famous Western Corridor, our hotel is 335 kilometers from Arusha. There is an airstrip next to the lodge and "meet and greet" as well as transfer services are available. The lodge is also located 122 kilometers from Olduvai Gorge on the way to the Ngorongoro Crater.
Grumeti Serengeti Tented Camp
Grumeti Serengeti Tented Camp is located in the great Serengeti's delightfully remote Western Corridor, offering seclusion, luxury and the million-year quiet which is one of the Serengeti's many charms. Set in an emerald forest facing an oxbow lagoon of the Grumeti River – a favourite with playful hippos, as well as being the only place in the country where the thumbless, pied colobus monkey is found – the camp consists of only 10 double tents, making for intimate interaction with nature.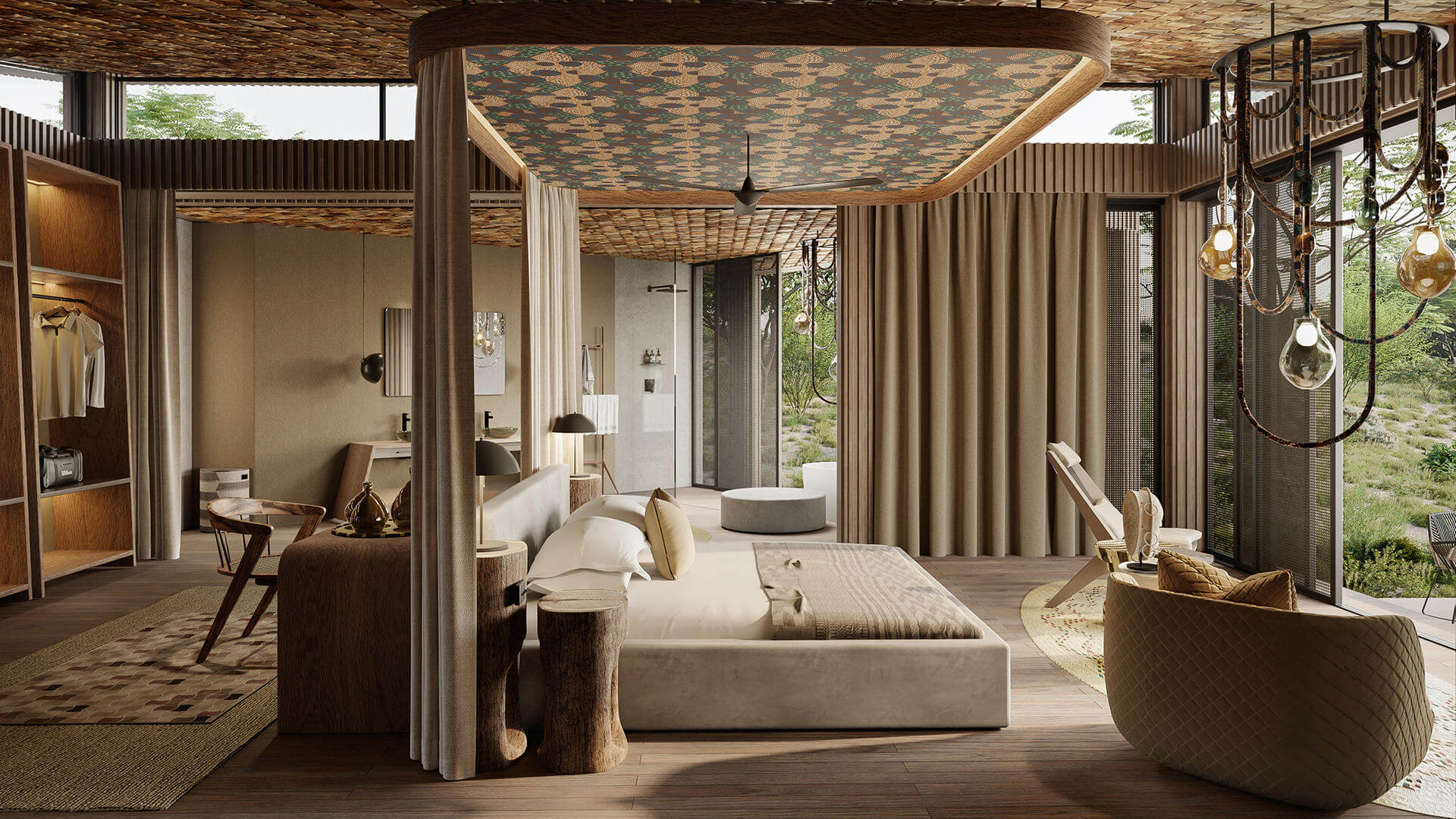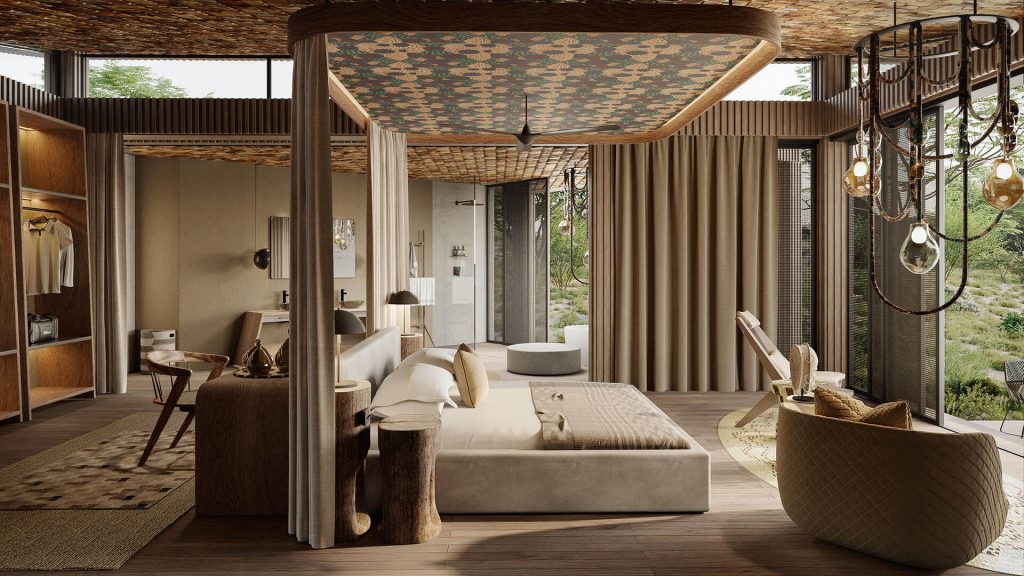 Amenities
In-room massage
En-suite bathrooms
Outdoor/under canvas showers
Laundry services
Shared pool
Gift shop
Boma
Kirawira Serena Camp
Styled to replicate the elegant hunting camps of legendary hunters such as Denys Finch Hatton and Baron Bror Blixen, Kirawira Serena Camp welcomes you to a destination where unforgettable safari adventures are complemented by crisp, professional services and five-star amenities. As the finest and most exclusive of the Serena Group's safari venues, we offer an experience beyond compare surrounded by the majesty of Serengeti National Park's famous Western Corridor.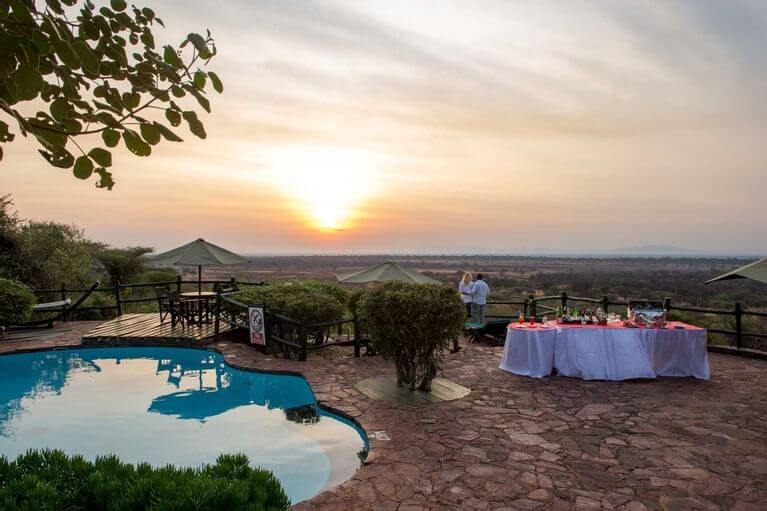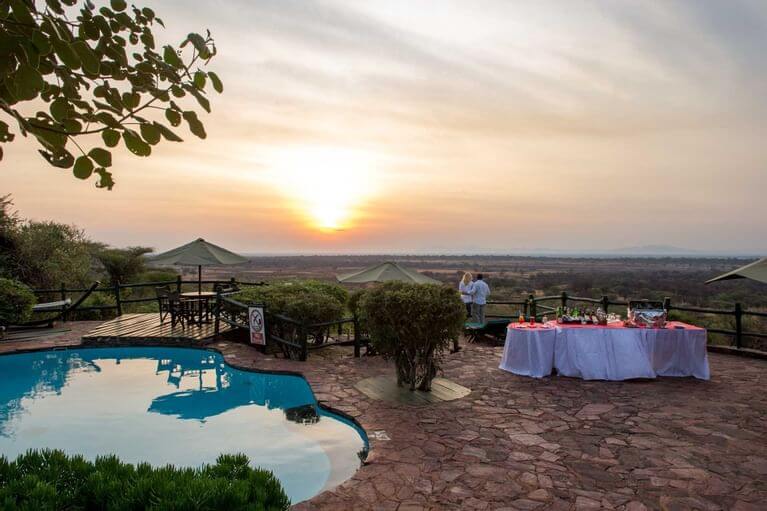 Kirawira Serena Camp features 25 beautifully appointed luxury tents with spectacular views of the plains. It also includes elegant dining tents featuring Edwardian-styled dining furniture and staff attired in the classical Colonial 'mess' uniform of white Swahili robes. In addition, there's a central meeting tent evocatively furnished with a tasteful selection of chintz-covered chaise lounges, Persian rugs, antique escritoire, wind-up phonograms and leather-bound traveling cases.
Facilities
Just 25 widely spaced luxury ensuite tents
Edwardian-styled lounge and bar
Elegant tented dining tents with full silver service
Scenic safari bar with stone terrace
Central fire-pit for evening sundowners
Wedding planning and honeymoon venue
Gift shop, business centre, Wi-Fi
Ikoma Tented Camp
Set in the midst of an incredible scenery of savannah and skies, you find Ikoma Tented Camp, sheltered in a grove of acacia trees. Ikoma has 35 traditional Meru tents, each under a thatch with a private veranda overlooking the impressive plains of the Serengeti. The camp is located just outside the national park boundary. The airstrip a short distance away from the camp means you can be with us in next to no time and avoid the long drive through the park should you prefer a shorter one.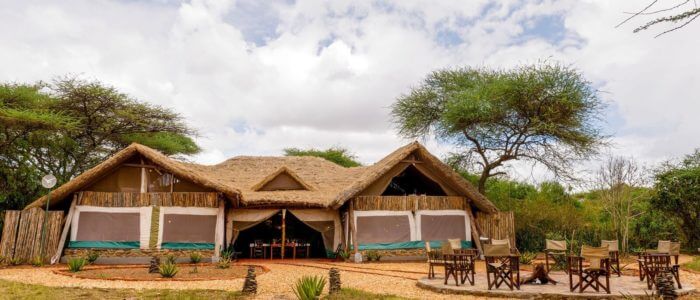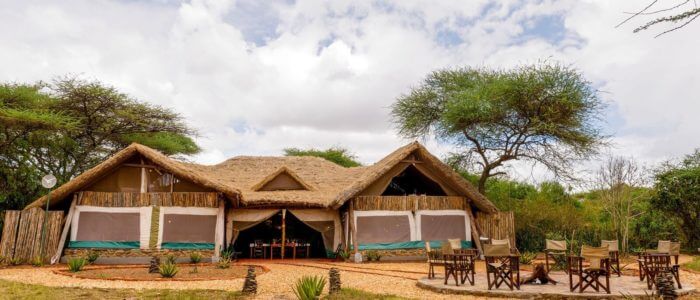 Amenities
Bathroom with shower, flush toilet, wash hand basin, soap, towels
Mosquito nets, candles with matches and electrical lighting in the tent
Camping site with kitchen, toilets and showers
Charging possibilities for cameras, batteries, etc.
Spacious restaurant and bar area
Fireplace
Robanda Safari Camp
situated just outside the Serengeti National Park, Robanda Safari Camp is a small and intimate camp with only 7 tents, and can therefore offer a more personal treatment to guests who do not want to experience the hustle and bustle of larger camps. The tented rooms are very spacious, with either double or twin beds and annex bathroom. Each tent has a private veranda with an impressive view over the Serengeti plains, where herds of wildebeest and zebras can be seen. The "bush style" tents are mobile tents, set up in a permanent way.
Each tent has its own private bathroom with bush shower and toilet. The panoramic open restaurant, with a lookout tower, offers fine cuisine and cold drinks after an exciting day of game driving. Here you can relax with a chilled cocktail, while observing animals drinking from the water hole only 30 meters away from the bar.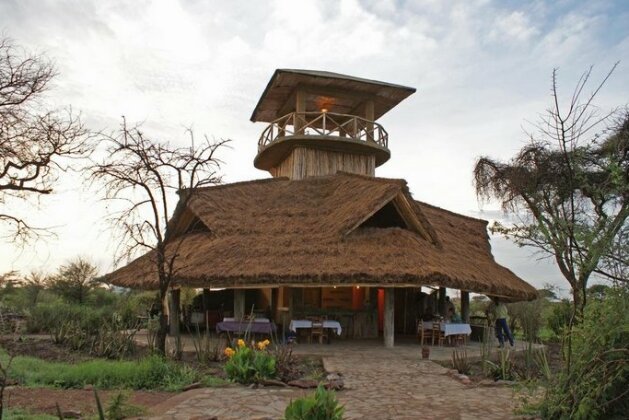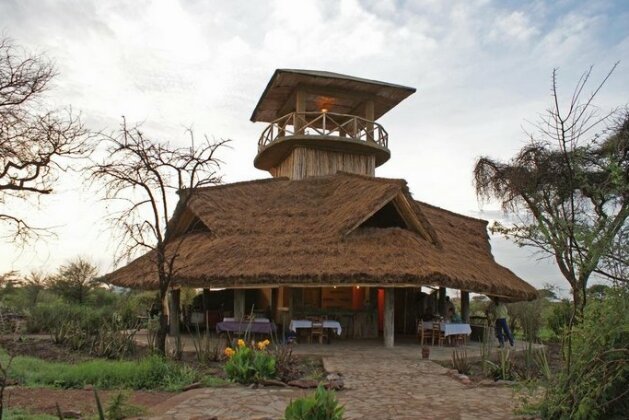 Facilities
7 spacious tented rooms with attached bathroom
Each tent has its private veranda with view over the Serengeti plains
En-suite bathroom with shower, flush toilet, wash hand basin,
soap, towels and bottled water
Mosquito nets, mosquito coils, candles & matches
Electrical lighting in tent and bathroom
Charging possibilities for cameras, batteries, etc.
A lookout tower with a great view over the Serengeti plains,
Mbalengeti Serengeti
Mbalageti Serengeti is located in the western corridor of the Serengeti National Park, Tanzania. The Lodge offers a breathtaking 360-degree panorama view of the Serengeti Plain lands and the Mbalageti River, where one of the main attractions is the annual migration of wildebeest and zebra. The Mbalageti Serengeti is situated on Mwamveni hill and offers a breathtaking panoramic view of the Serengeti plains and the Mbalageti River. Entering from the Mwanza-Musoma highway, through the Ndabaka gate (1.5hrs approx.) or from Naabi gate Ngorongoro (3 hours approx.); the drive is a unique wilderness experience.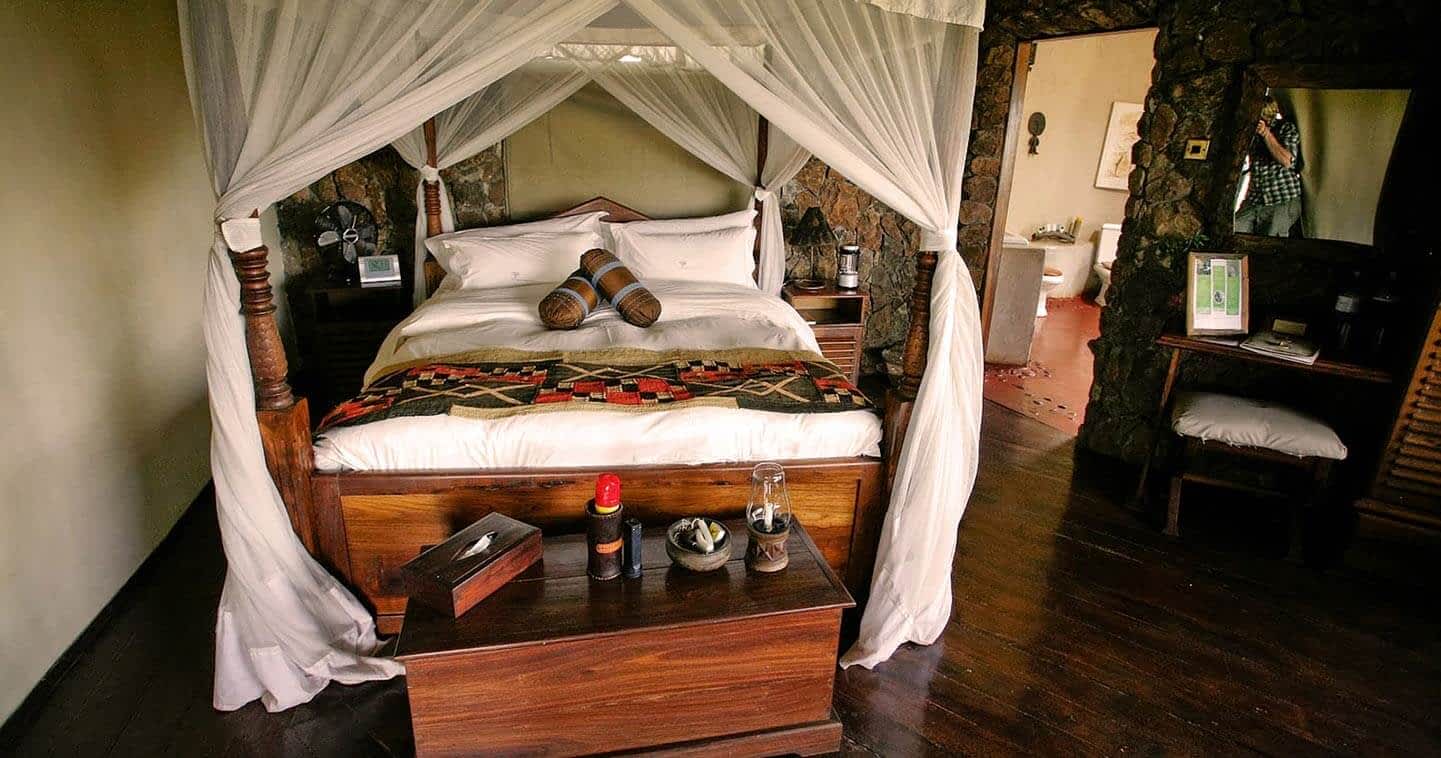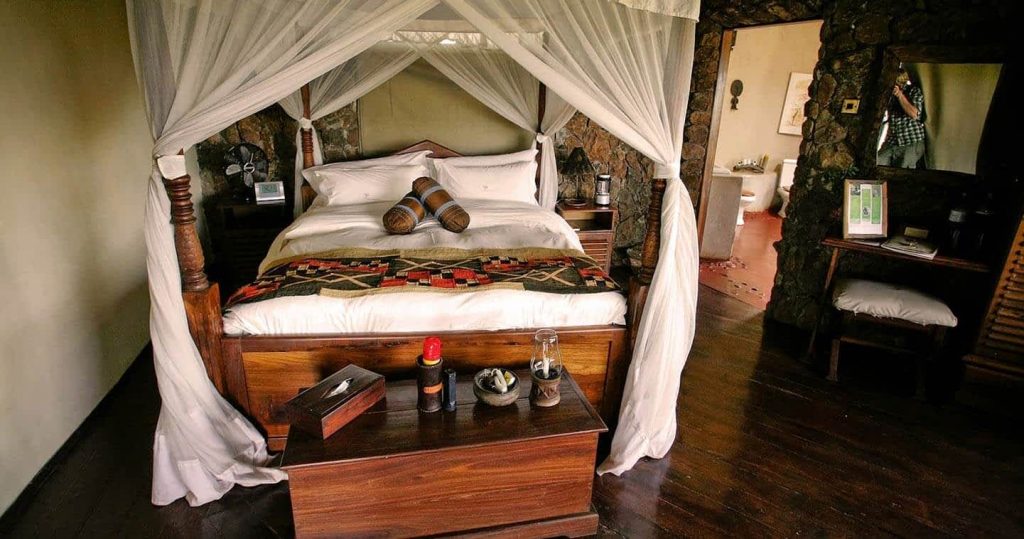 Amenities
Free parking
Free internet
Pool
Free breakfast
Meeting rooms
Spa
Concierge
Singita Faru Faru Lodge
Set in front of a busy waterhole alongside the Grumeti River in the heart of the Serengeti, Singita Faru Faru Lodge invites continuous connections with its breathtaking surrounds. A relaxed approach to luxury forms a golden thread throughout this contemporary African lodge and allows guests to experience the deeply restorative power of nature. Décor & design includes airy bedroom suites, where every comfort is catered for with intuitive ease and oversized windows welcome the wilderness inside.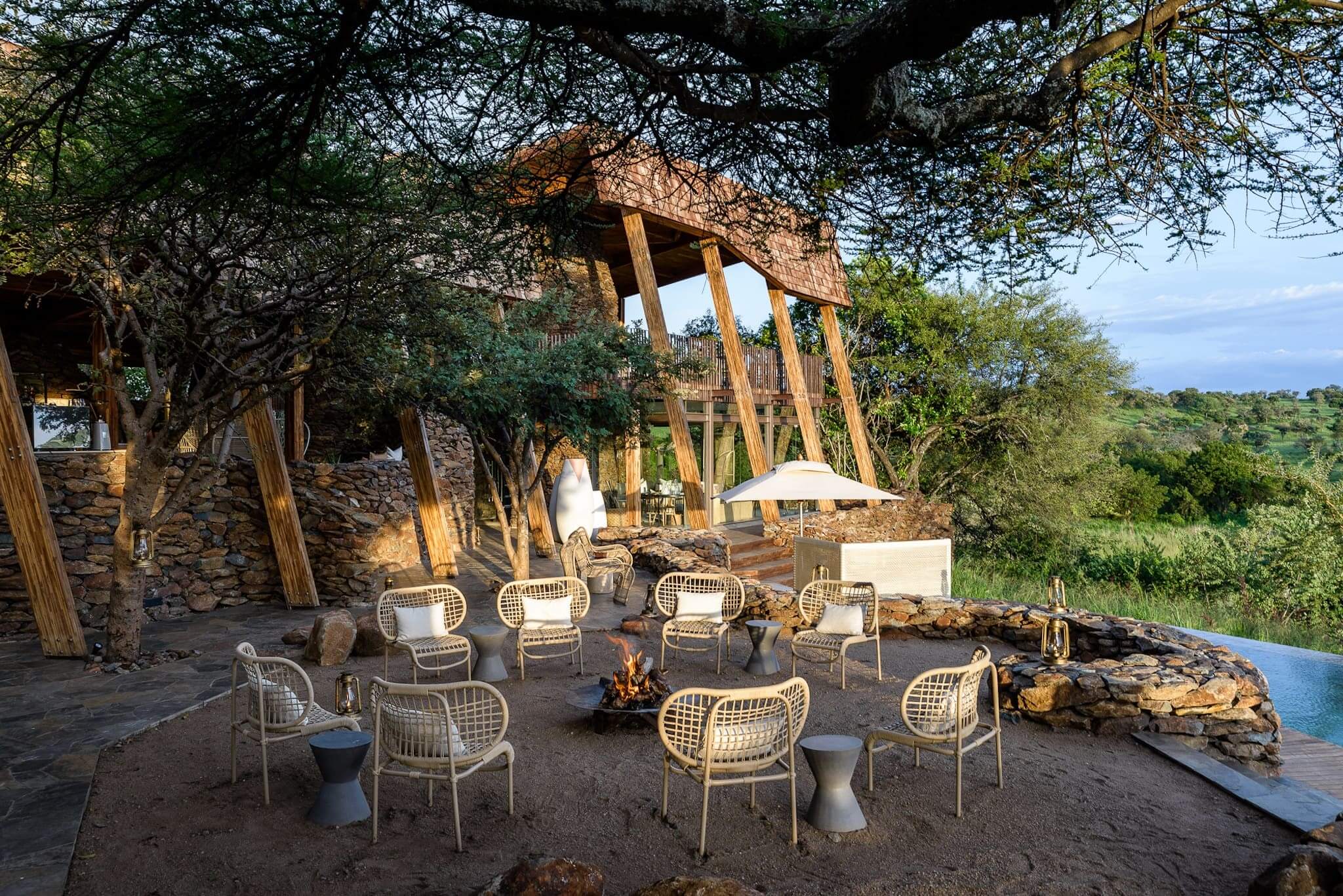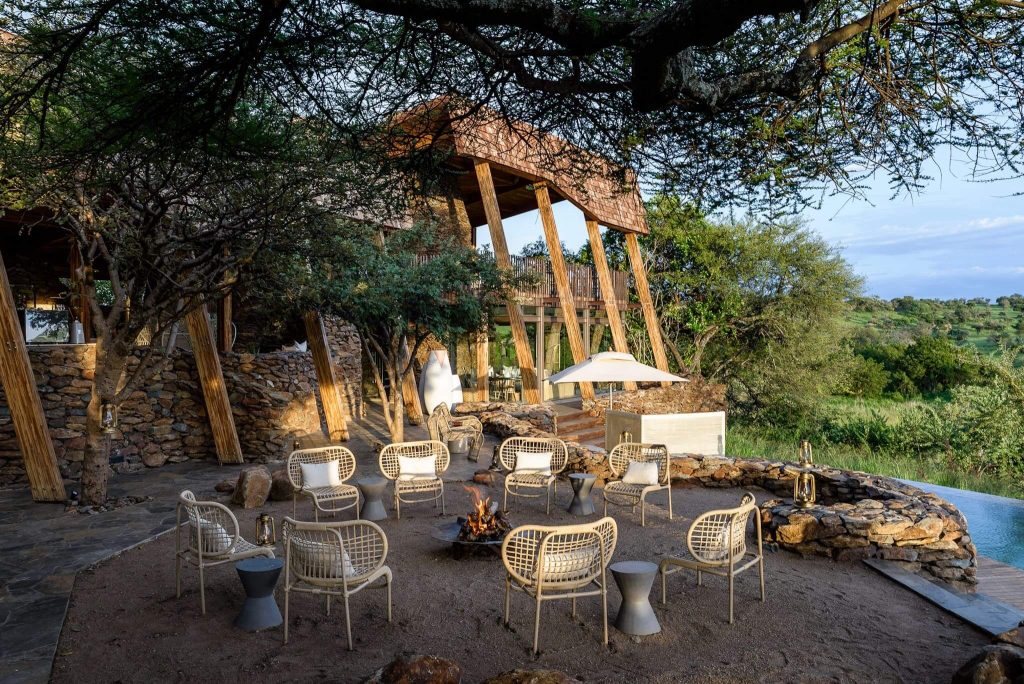 Vast outdoor decks and multiple airy enclaves allow for intimate dining and drinks, while the café-style bar at the heart of the lodge hums with a subtle sparkle – spilling over to the pool area and firepit, and making for magical evenings under starlit skies.
Singita Sasakwa Lodge
Built in the style of a stately Edwardian manor house and featuring a light and airy atmosphere, Singita Sasakwa Lodge offers panoramic views, a sense of immense freedom, and stillness. Offering expansive en-suite bathrooms, dressing areas, fireplaces, living rooms and French doors opening onto welcoming verandas, the elegant cottages feature polished parquet floors, vintage collectibles and comfortable furnishings – and provide guests with complete privacy, as well as unfiltered space and time to connect with the breathtaking surrounds.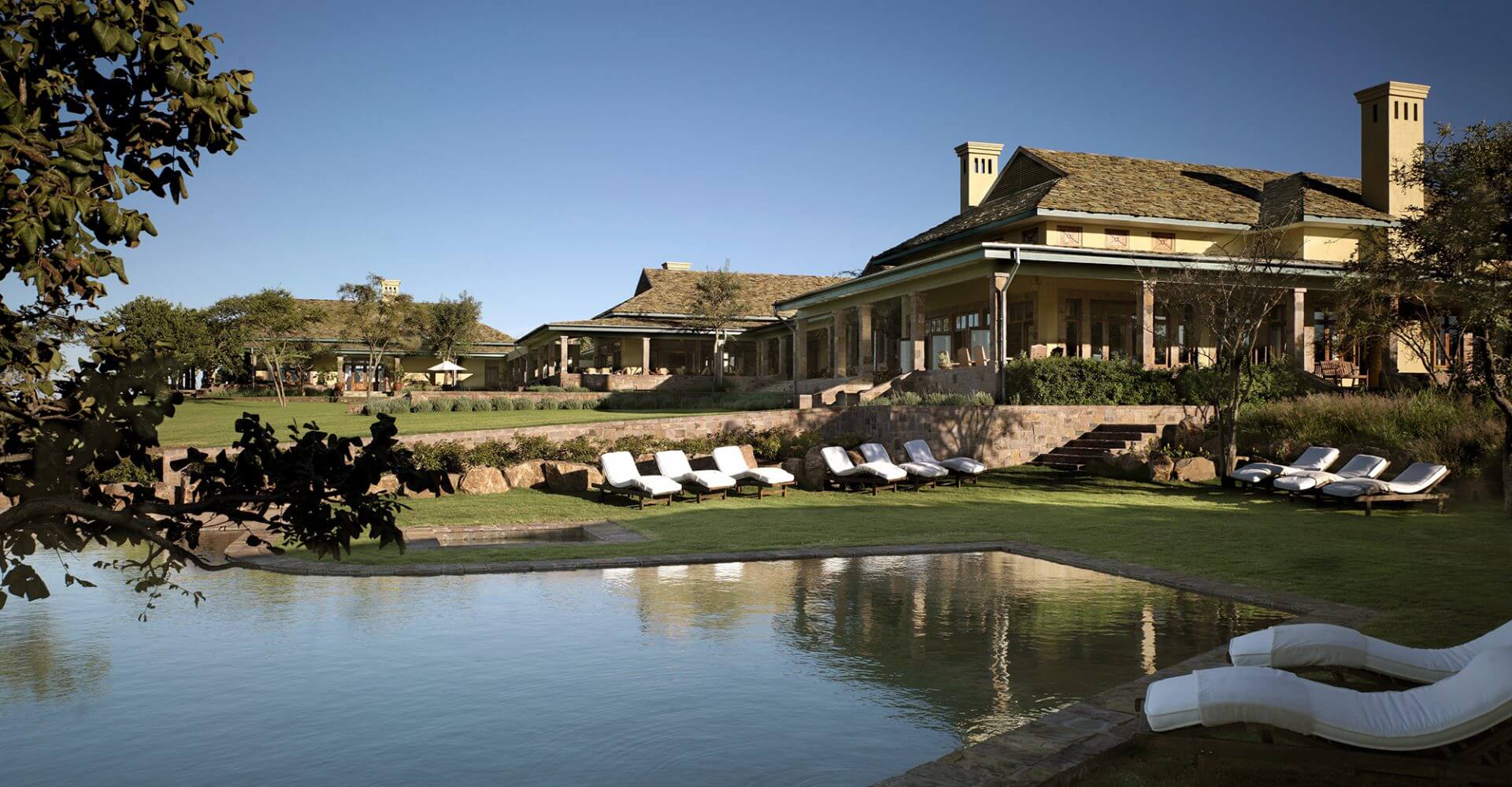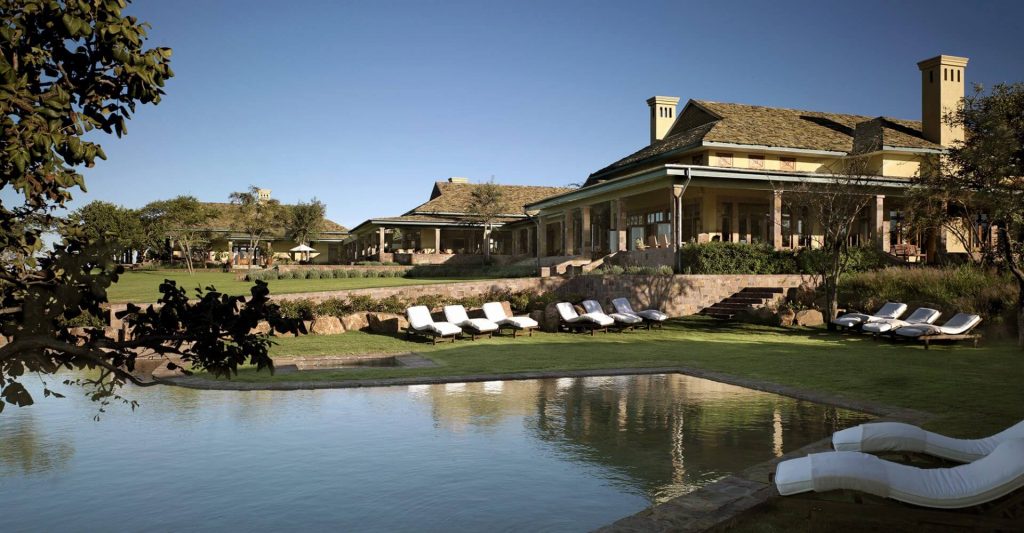 Amenities
swimming pool
A fitness centre
spa or room massage.
Singita Boutique & Gallery store
There is complimentary internet (WiFi) access
babysitting services available
Halaal food is available – To be booked in advance.