Accommodation Lodges and Camps in Northern Serengeti
Acacia Migration Camp
Acacia Migration Camp nestled in the Kogatende area is a semi-permanent mobile tented camp perfect for anticipating movements of the great migration. It offers splendid views with a fresh breeze and it features first-class amenities that guarantee luxury accommodation even in the midst of the wild. Listen to the sounds of nature and simply take in this once-in-a-lifetime experience of being in the wildlife setting of Africa.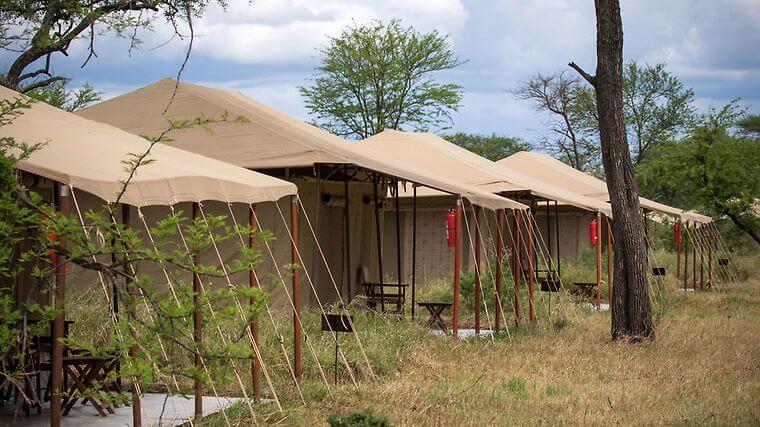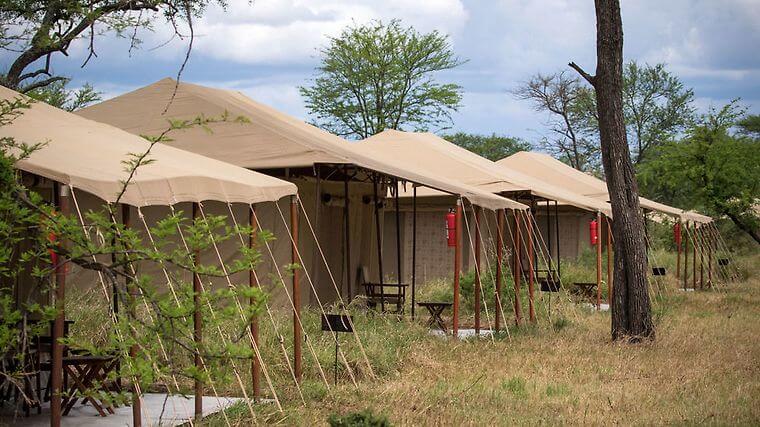 Acacia Migration Camp has ten canvas tents, all furnished with en-suite bathrooms, flush toilets and other essential amenities. There is a separate tented camp for the dining area and next to it is the lounge and bar area. All of these are accessible in a few steps under a soaring canopy of acacias, in the front of the camp.
Ang'ata Migration – Bologonja Camp
Ang'ata Migration – Bologonja Camp is a large camp with 12 large Guest tents including a 2 tent Family unit, a lounge and a dining tent. Each guest tent has an en-suite bathroom with shower, vanity desk and flush toilets. Depending on request a Kingsize bed or 2 Twin beds or triples are available. The lounge is the place to meet other travellers and share your day's Safari stories while enjoying a complementary cup of Tanzanian Coffee or Tea. Breakfasts, lunches and dinners are served in the dining tent, freshly prepared by our Chefs on a daily basis. Bush TV (local name for camp fire) is lit when the weather permits.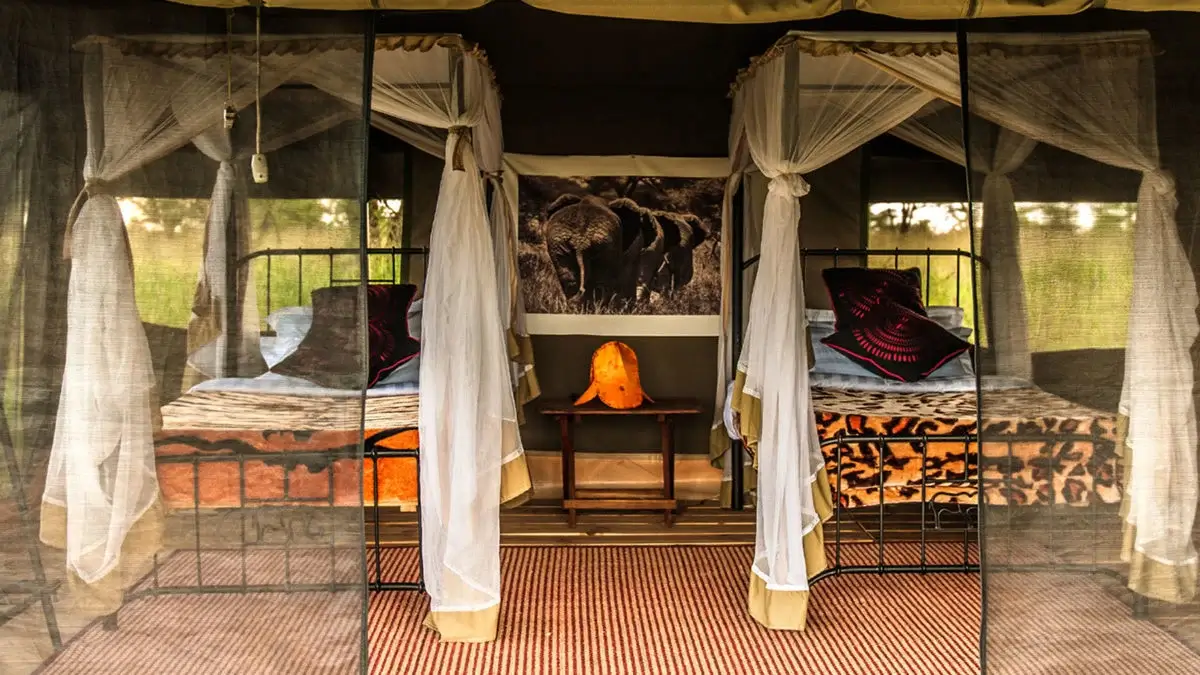 Located near the Bologonja Ranger Post our camp is an hour's drive away from Mara River where you can witness the world-famous River Crossing, with Nile Crocodiles laying in ambush and Big Cats on the shores awaiting the Migration from July to October. Set in front of a big plain you will most certainly be in the company of thousands of Wildebeest while enjoying your cup of tea in front of your tent.
Kenzan Mara Tented Camp
Located on the edge of the Northern Serengeti wilderness in Tanzania, home to the greatest Wildlife reserves in Africa; the Kenzan Mara Tented Camp offers incredibly spectacular viewing of the naturally preserved ecosystem. The Camp is enriched with ever-present pleasing sounds and gives you a chance to explore the outdoor wilderness while connecting with hidden gems of nature.
Kenzan Mara Tented Camp is peacefully located and decorated with a tasteful selection of colors and pieces of art to set the tone for cool and soothing relaxation away from the stresses of life. The living spaces of this tented camp are filled with light and with blissful breezes blowing in; these would be the right places for couples to chill and view the awe-inspiring sunset.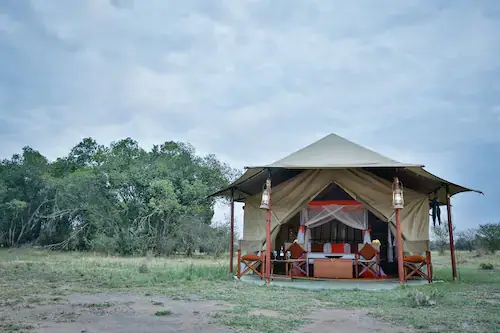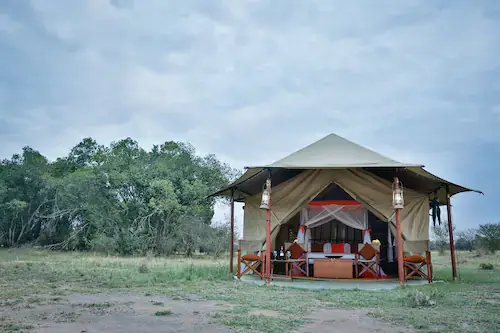 Kenzan Mara Tented Camp is located in the Northern Serengeti and it is only 30 minutes drive from the Kogatende Airstrip. The ideal way to reach there is by air. With road transfer; Arusha town to Kogatende Northern Serengeti is a drive of more than 10 hours.
Serengeti Bushtops Camp
Under Serengeti Bushtops canvas lies the finest in seductive luxury and fifteen of the largest, most impressive tented ensuites imaginable. None of the tents are overlooked, but all look over the Serengeti. Each faces the sunset and is open on two sides, giving you an extraordinary panoramic view of nature's living masterpiece. The 12 luxurious rooms under canvas are named after the animals that surround them. Each is encircled by vast private decks, creating a hundred and twenty square meters within which to sink into a deck lounger, soak in your private hot tub or gaze out at passing wildlife.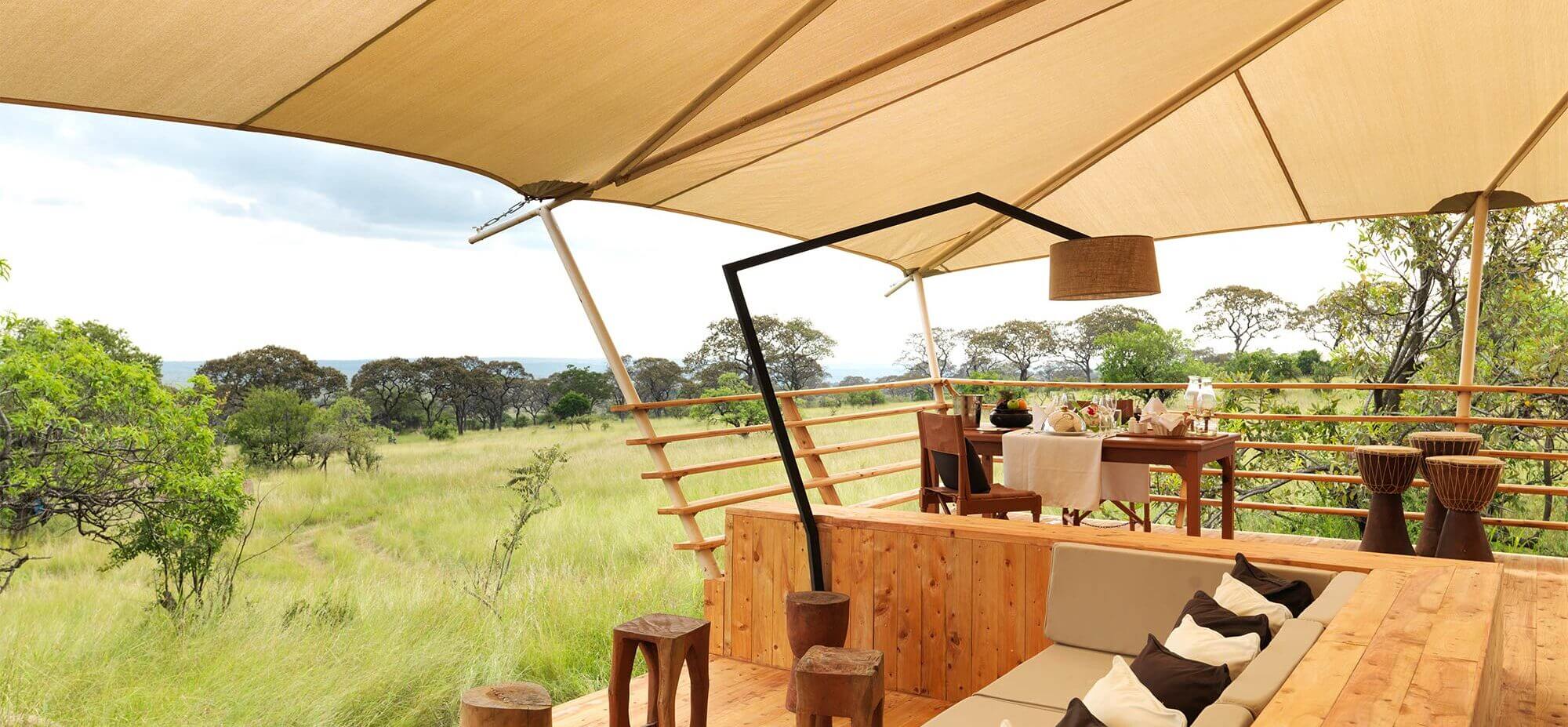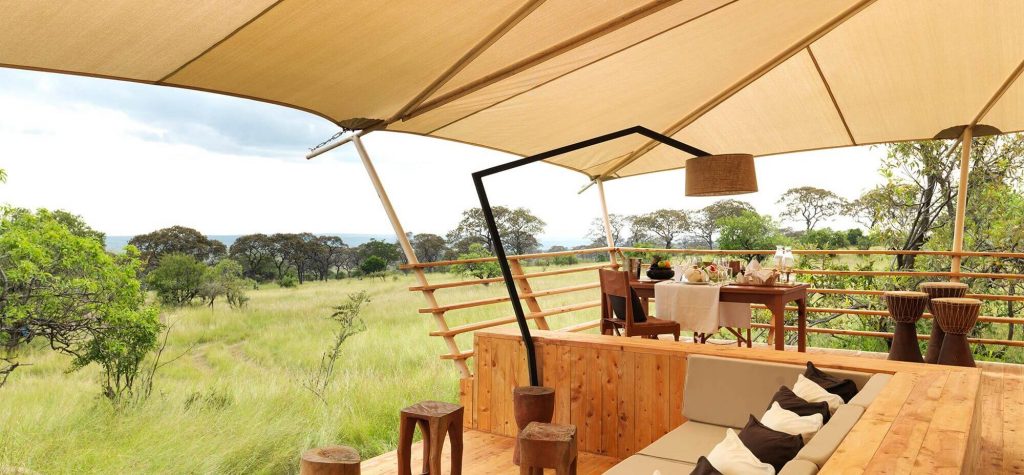 Each tent sleeps two, but an extra single bed can be added for a third adult.
Facilities
Panoramic views
Huge wooden deck with hot tub
Bushtops signature bedding
24 hour butler service, power and wifi
Sunken lounge
You can reach Serengeti Bushtops via several routes. A light aircraft flight from Kilimanjaro or Arusha, landing at the nearby Kogatende airstrip, is perhaps easiest. Alternatively, guests can take a one-way or return transfer from our sister camp, travelling from the Mara Bushtops airstrip at Siana Springs to Migori, being met at the Isabenia border from where you are driven the short distance to Tarime airstrip for a brief airborne hop to Kogatende.
Lamai Serengeti
Lamai Serengeti is an iconic camp set within the rocky kopjes of the northern Serengeti. Tucked into the iconic Kogakuria Kopje in the northern Serengeti, Lamai Serengeti commands never-ending views over the magnificent Mara River valley. Twelve carefully designed family-friendly tents are split between two separate camps, the Main Camp and the smaller Private Camp. Constructed from a clever blend of canvas, ferro and natural poles, the tents boast spacious verandas spread amongst the rocks, each with exceptional views.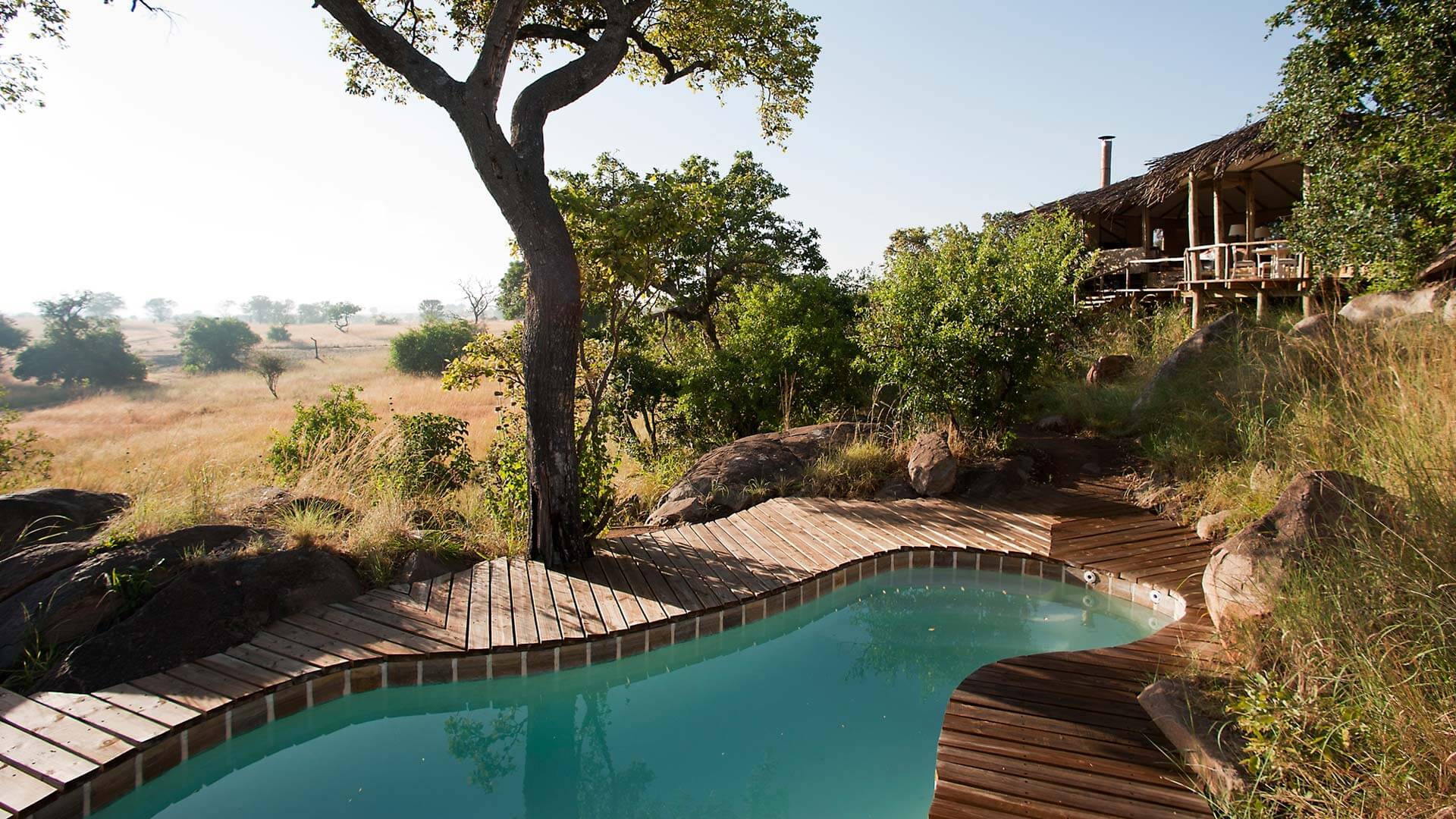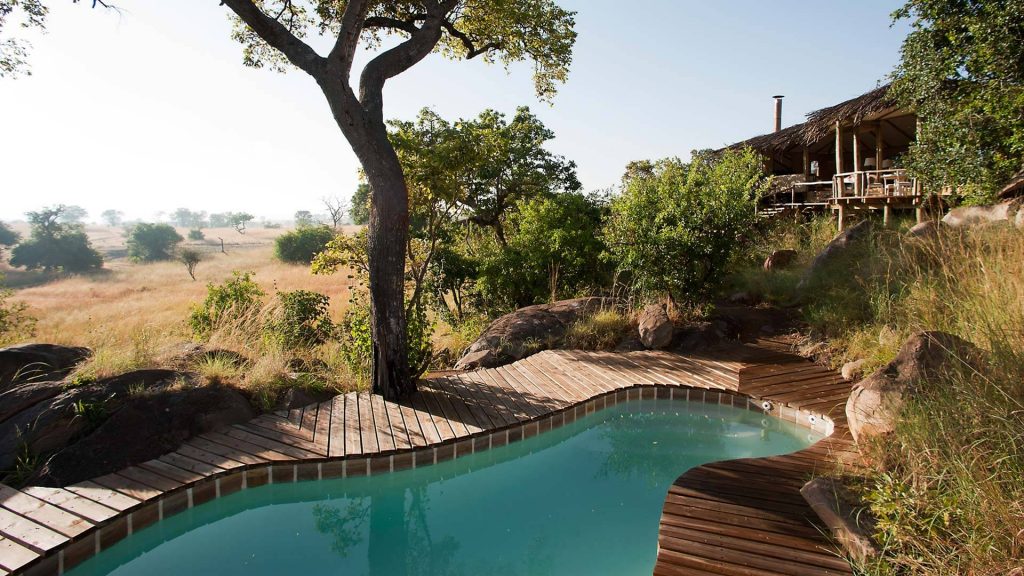 Cool off from the heat of the day in one of two natural rock swimming pools, the kids will love this or lose track of time browsing through the fascinating contents of the library and map room, a great place to play board games. Cocktails are served in the convivial bar area and delicious juices for the kids, with cosy nooks hidden amongst the massive boulders. The kids can take their checklists on exciting game drives that explore the magnificent wildlife of the Serengeti. The family can also enjoy short, guided walks, bush picnics and spectacular sundowner stop.
Serengeti Migration Camp
Serengeti Migration Camp is located next to the famous Grumeti River which is home to resident hippos that bark and wallow their days away. Hidden among the rocky outcrops, Serengeti Migration Camp sees the starting point of the Migration. Comprising 20 luxurious elevated tents, each with spacious and richly furnished bedrooms, Serengeti Migration Camp blends seamlessly into the environment.
Serengeti Migration Camp Tents are designed with the guest's comfort in mind. Each tent has an en suite shower room with flushing toilet, shower and twin vanity basin, the latter of which receives hot (solar generated) and cold running water 24-hours a day.
Serengeti Migration Camp tented rooms include luxuriant soft furnishings, a writing desk and stationery set and a room fan. The tents have a wooden floor, fixed bathroom walls, fixed wooden doors but all combine with the all-enveloping canvas.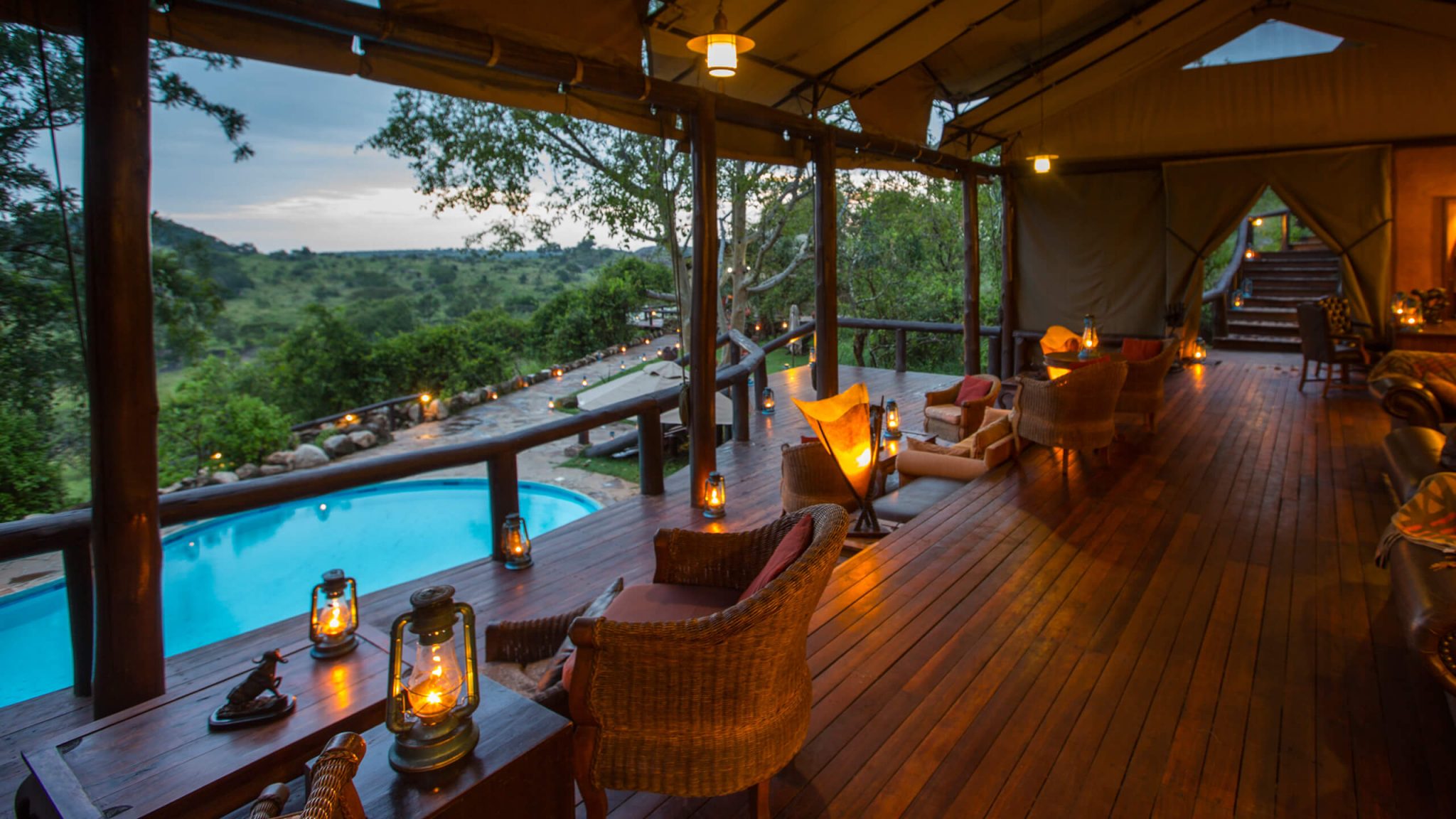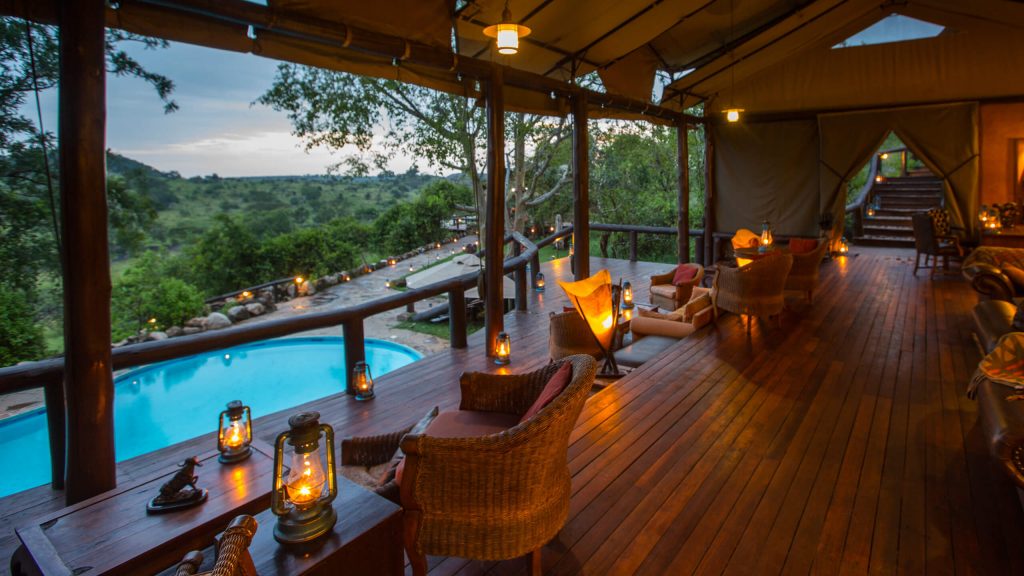 Tucked away in the vast plains, the Serengeti Migration Camp is located at the starting point of one of the world's great wonders – The Migration. The landscape, originally formed by volcanic activity, has been sculptured by the ever changing climate and now varies from open grass plains in the south, savannah grasslands with scattered acacia trees in the centre, hilly wood grasslands in the north to extensive woodland and black clay plains to the west. Lobo Airstrip is 40min drive away from the lodge.
Klein's Camp
In a remote corner of the game-rich Serengeti National Park, a 10,000 hectare (24,700 acre) wildlife concession leased from Maasai landlords offers guests an exclusive, Tanzanian safari at Klein's Camp. Embodying the very soul of the Serengeti, this private and remote camp offers guests the spirit of wild Africa.
Set in a landscape that is gentle yet rugged, Klein's Camp reflects the heart of this untamed land with a vintage safari style. The stone interiors of the guest areas open up to breathtaking panoramas, with open fireplaces to keep the chill away. Featuring a beautifully furnished bar and sitting area, stone floors and deep leather armchairs invite you to while away the hours.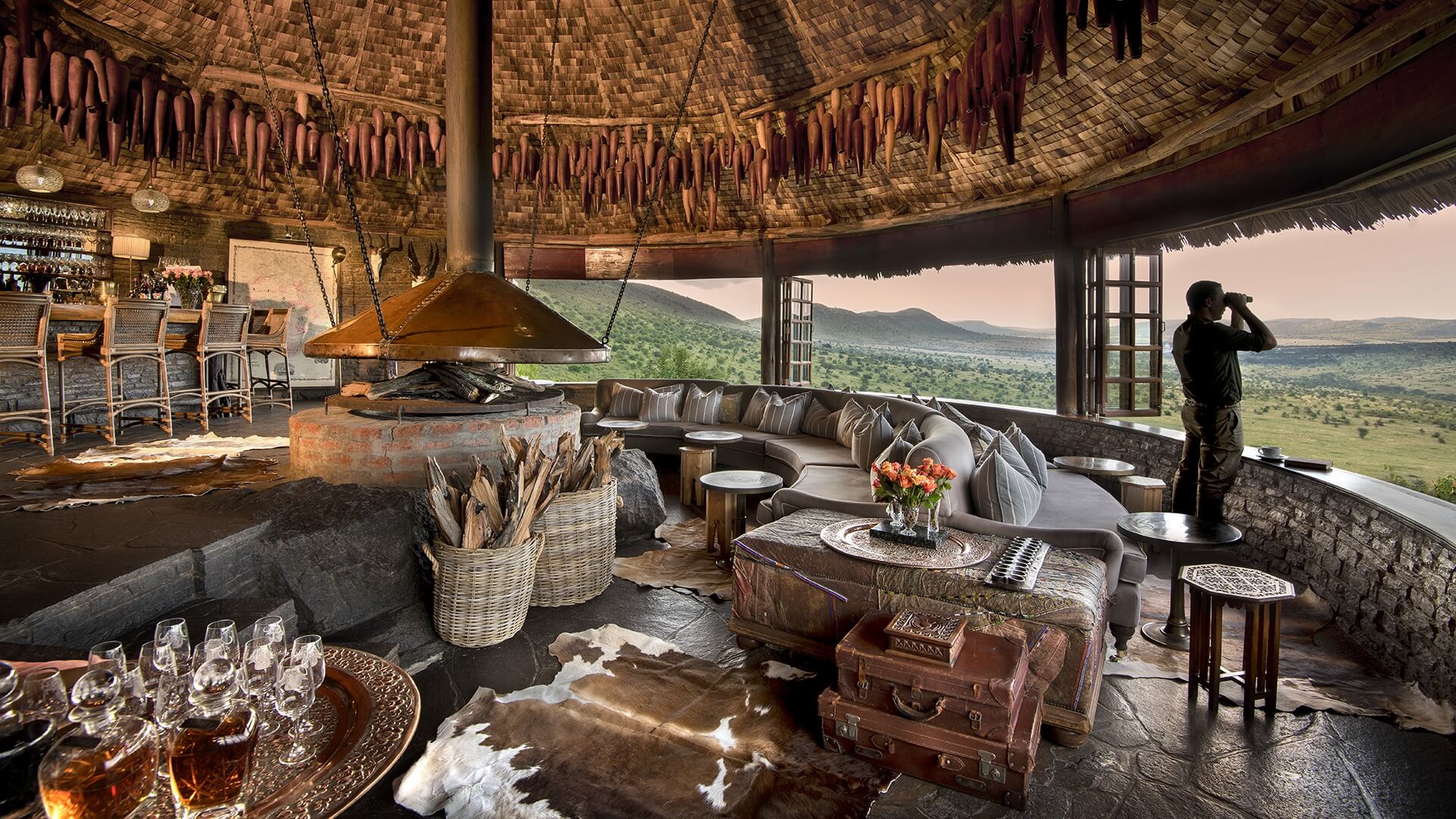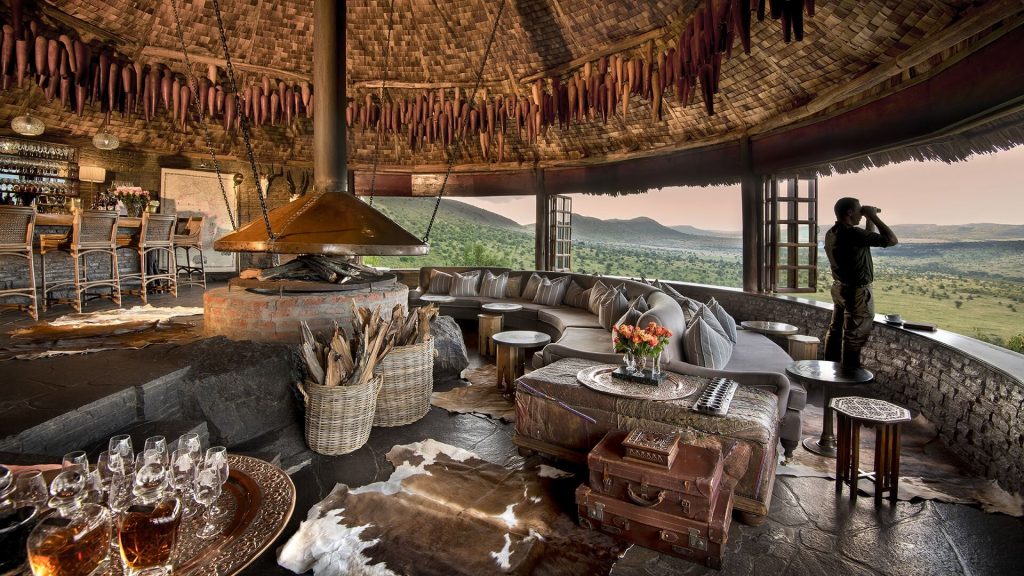 A number of airlines operate scheduled flights from Arusha to Lobo airstrip each morning, followed by a leisurely one and a half to two hour drive to camp, with game viewing en route
Sayari Camp
Sayari Camp is based in the north of Serengeti National Park, with a prime location to witness thousands of wildebeest crash across the Mara River as part of their Great Migration. Overlooking the golden plains, our 15 bright and spacious suites have walk-in showers, al fresco tubs and verandas on which you can laze away the afternoon with a book. Sayari's rim-flow pool is set between natural rock formations for guests to cool off in while watching elephants or zebras ambling past camp.


After a dip, treat yourself to a calming massage or a beer at the Serengeti's first solar-powered microbrewery before an afternoon game drive and sundowners around the campfire. Sayari has been carefully designed to include two lounge and dining areas. Both blend seamlessly with the outdoors with large glass sliding doors that allow for uninterrupted views of the rolling Serengeti plains. Both of the lounge and dining areas provide a spot for you to unwind outside of your bedroom and to enjoy a delicious meal shared with other guests.
You can choose to dine indoors or al fresco, depending on the kind of scenic setting you prefer. Framed by natural rock formations, the camp's beautiful infinity pool boasts impressive views of the Serengeti and is the ideal spot to escape the heat and spend a lazy afternoon gazing at the game-filled plains.