Accommodation Lodges and Camps in Central Seronera and Southern Serengeti
Serengeti Sopa Lodge
Located on the edge of the escarpment overlooking the plains of the south-western Serengeti National Park, home to many thousands of wild and rare animals, Serengeti Sopa Lodge lies within an area of outstanding natural beauty. An oasis of cool relaxation from the equatorial sun. The lodge allows its guests to experience magnificent sights and enjoy interaction with the land and animals difficult to find elsewhere, whilst at the same time enjoying the highest level of cuisine and hospitality
Facilities
Bar and lounge
Restaurant
TV room
out-door dining
swimming pool
gym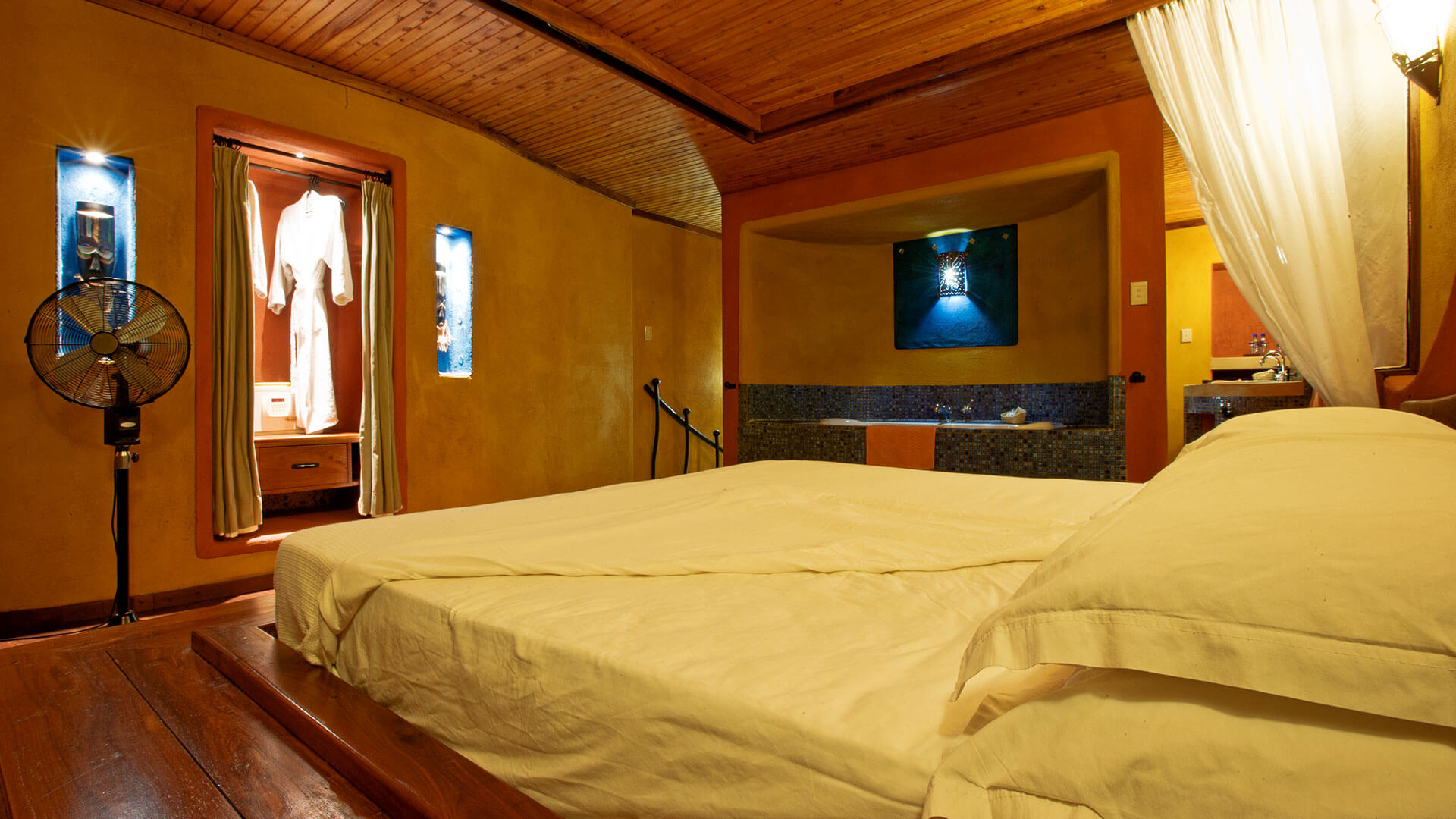 Serengeti Sopa Lodge can e accessed from Arusha on a 7 hr drive or alternatively 1 hr flight from Arusha Airport to Seronera airstrip. It is a 45-minute transfer from the Seronera Airstrip to the Lodge
Tukaone Serengeti Camp
Tukaone Serengeti Camp is a private safari camp perfectly located at the heart of Central Serengeti with a perfect view of Hembe Hills overlooking the endless plains of Serengeti. Its unique location provides a diversity of resident wildlife and million migration of animals that pass through these plains year after year.
Facilities
Lounge & Bar
Gift / Souvenir Shop
Communal campfire
Board games & cards
Guest library
Solar Electrical lighting
Power station with charging cables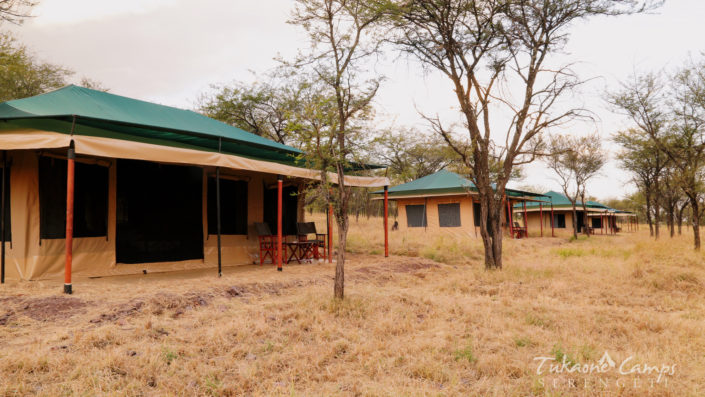 The camp has 10 spacious tents, in the middle of Savannah surrounded by different trees of Acacia and animals. Tents can be configured to either Single, Double, Twin or Triple occupancy. All tents have private flush toilets, hot and cold showers, washbasins, and the verandah in front of your room is furnished with comfortable safari chairs.
Kisura Tented Camp
Kisura tented camp, overlooking the magnificent Savannah Plains of the Serengeti National Park is the absolute jewel in the crown. This intimate safari camp of just 10 luxury tents offers premium tented accommodation with first-class service. Here is the perfect base for you to indulge your passion for wildlife without missing out on your home comforts. The Cmp comprises tents that are fully furnished and equipped with hot showers, separate toilets, four-poster beds, sitting areas, and spectacular views.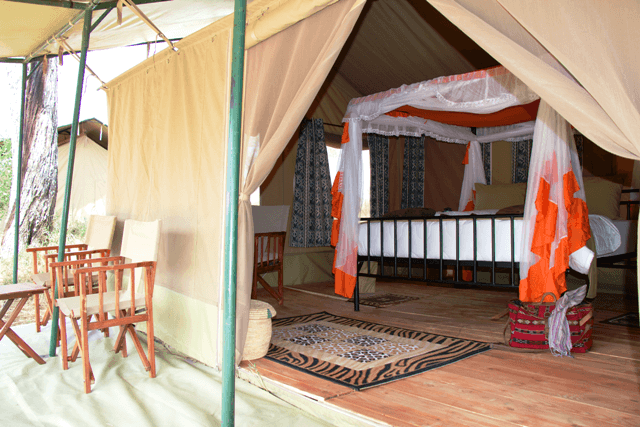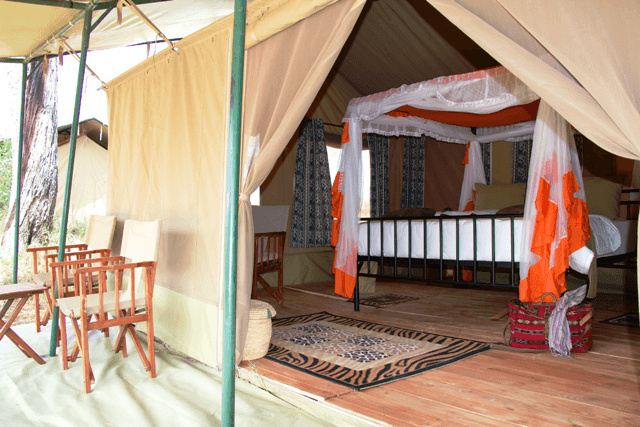 Kisura tented camp is primely located in the Serengeti National Park just 2kms from the Seronero Airstrip, providing a perfect position from which to explore.
Kenzan Tented Camp
Inside this national park, one of the most suitable location is the Seronera, central Serengeti where the Kenzan Tented Camp is located offering its guests a tranquil and peaceful accommodation with all the needed facilities en-suite to make your adventurous trip more fascinating.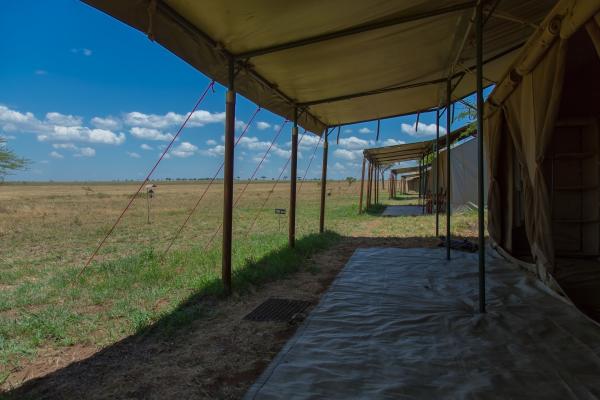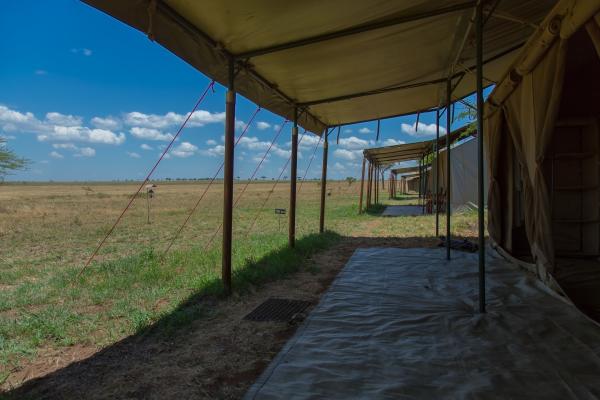 Being located at the heart of the magnificent Serengeti ecosystem, you will be able to explore all the jewels on the crown of Tanzania.
Kati Kati Tented Camp
Kati Kati Tented Camp is a mobile camp strategically situated in central Serengeti, ideal for exploring the extensive Serengeti plains. The camp offers comfortable accommodation together with the unique opportunity to enjoy a real safari experience on a camp. In its comfortable tents one will feel completely immersed in the surroundings and one can enjoy the rich animal life and vegetation of the area.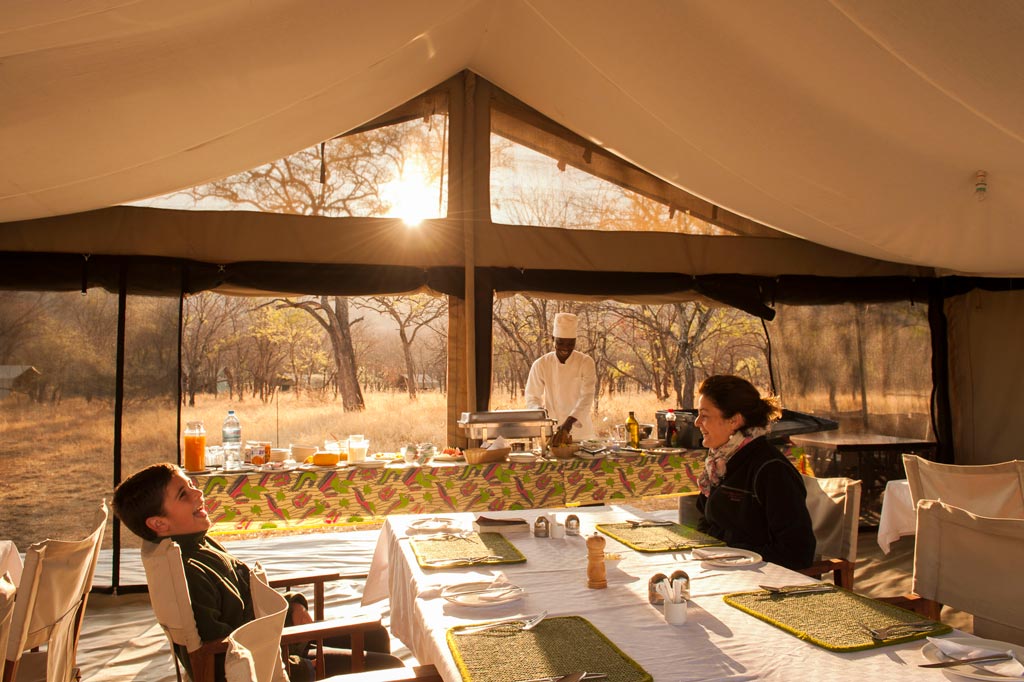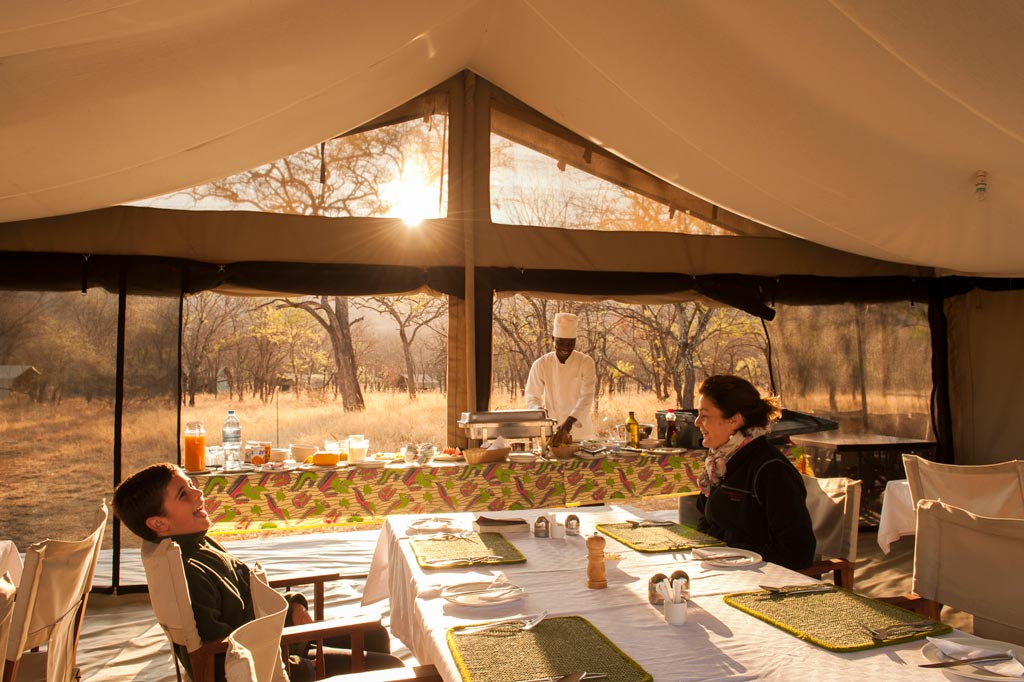 Located a two-hour drive along a panoramic route from the Olduvai Museum and the river Grumeti, two of the indispensable visits for all travellers to Tanzania. The tents are situated at ground level with a private porch. They overlook the savannah. Ample and comfortable. There is a choice of one double bed or two twin beds. The tents have a bathroom with a bucket shower. The family tent consists of two tents interconnected and a shared bathroom and private porch.
Nyumbani Camp (Collection) 
Nyumbani Camp, nestled in the heart of the untamed Serengeti offers a retreat into the rugged splendor of the wild ~ moving in harmony with the animal world in a holiday dream made real. The contemporary, mobile, tented camp is permanently situated in Central Serengeti. Comprising only eight luxury, tented suites, your exclusively personal setting provides for a memorable wilderness adventure.
Each spacious safari tent offers its own indoor sitting area where you're invited to relax through the day and gaze across the star-filled sky at night. Elegant furnishings have been chosen from custom-made Indian rugs, crisp linens, cozy duvets, bathrobes, and slippers, and include eco-friendly, reclaimed wood crafted by local artisans and carpenters in Arusha. The essence of Nyumbani is African, embracing simple, earthy colors for a stylishly rustic and organic charm.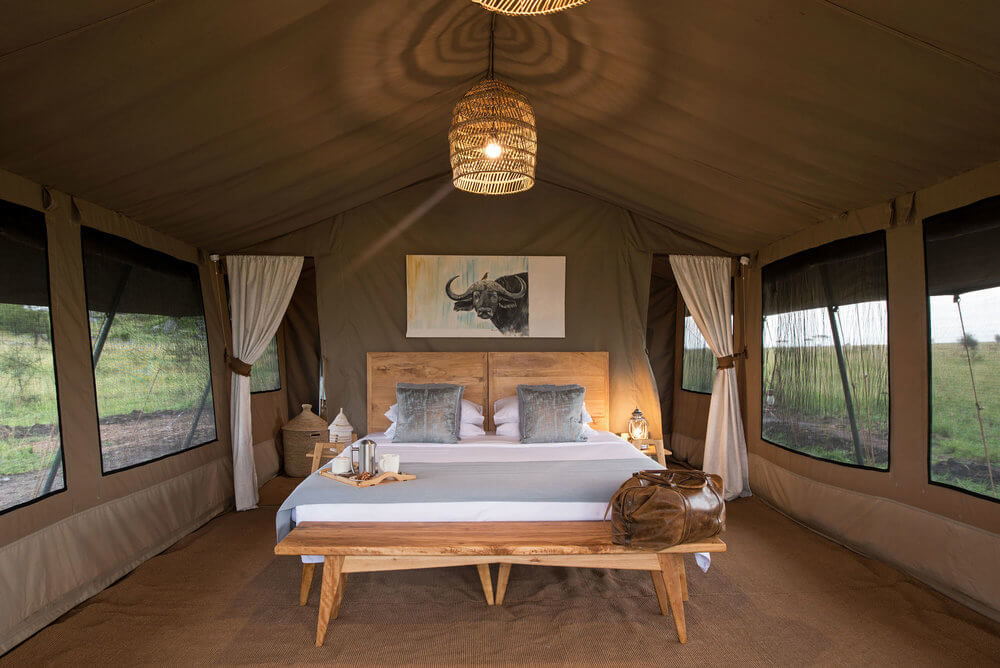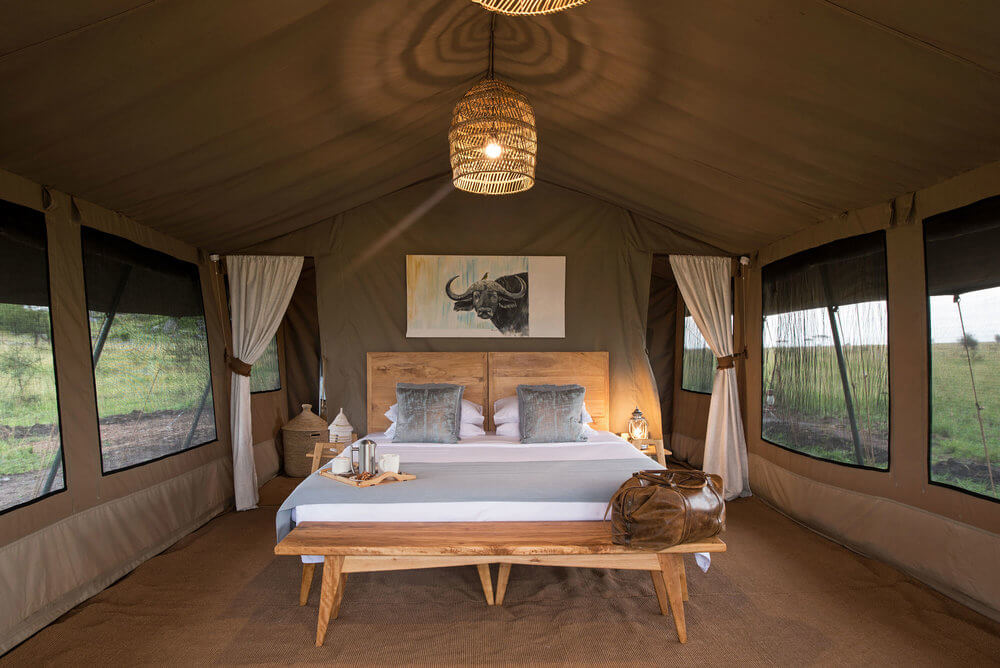 Facilities
Ensuite Rain Showers & Flush Toilets
Bathrobes & Slippers
Solar Torches
In-room Electronic Safe
Laundry Service
Private
Solar (and Back-Up) Generator
Writing Desk
Complimentary High-Speed WiFi
Whiskey Bar
Selection of Safari Books
Sanctuary Kusini Tented Camp
Sanctuary Kusini Tented Camp is the only permanent tented camp in southern Serengeti. Part of Sanctuary Kusini's charm is its remote and private location within the park, offering exceptional and essentially private game viewing. Built around a spectacular rocky outcrop, or kopje, the camp's communal areas include a dining area, lounge and library, as well as a campfire. The open-plan en-suite twelve tents at Sanctuary Kusini are shaded from the sun by acacia trees and all are extremely spacious.
Nestled in amongst the woodland, each tent has carefully thought-out views of the bush making it the perfect hideaway for casual game viewing. Each tent features mosquito netting, hairdryers and an in-room safe. A large private wooden veranda with comfortable furnishings extends in front of each tent, with many having views of the plains below where zebra, buffalo and lion are a common sight, the ideal spot to relax for a sundowner after a hot restorative shower.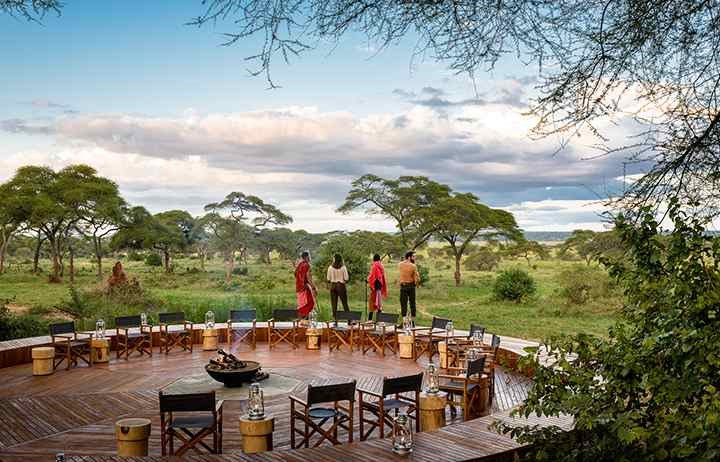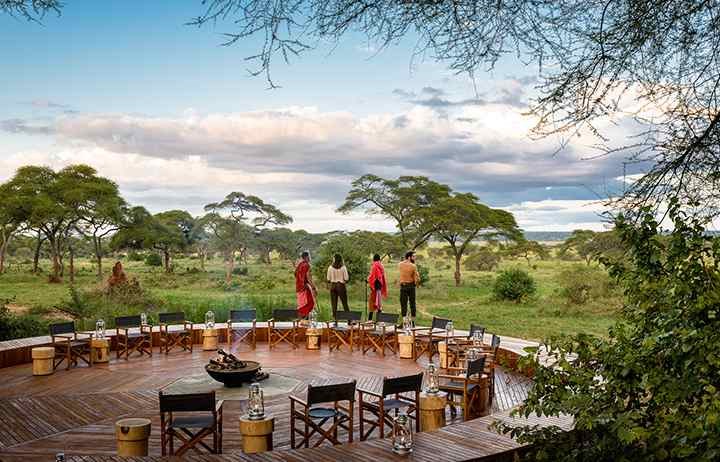 Like all Sanctuary properties, Sanctuary Kusini Tented Camp is designed to have minimal environmental impact, in fact the camp can be packed up and removed without leaving a trace. Sanctuary Kusini has a private airstrip, Serengeti South Airstrip (SGS) and can be accessed by daily scheduled light aircraft flight from Arusha, Kuro, Lake Manyara, Zanzibar and Dar es Salaam.
Four Seasons Safari Lodge Serengeti
Nestled in the heart of Central Serengeti amid wide-open plains, Four Seasons Safari Lodge Serengeti is just a 45-minute drive from the Seronera Airstrip (SEU), Lodge sits next to an animal watering hole, where you can watch a family of elephants stops for their morning drink as you sip your own out on your room's private balcony. Under the constant protection of local Maasai tribespeople, we'll take you in the bush for an exhilarating game drive, or you can soar high in the sky on a hot-air balloon safari. However you spend your day, our Spa is waiting to help you rehydrate, restore and re-energize for your next adventure.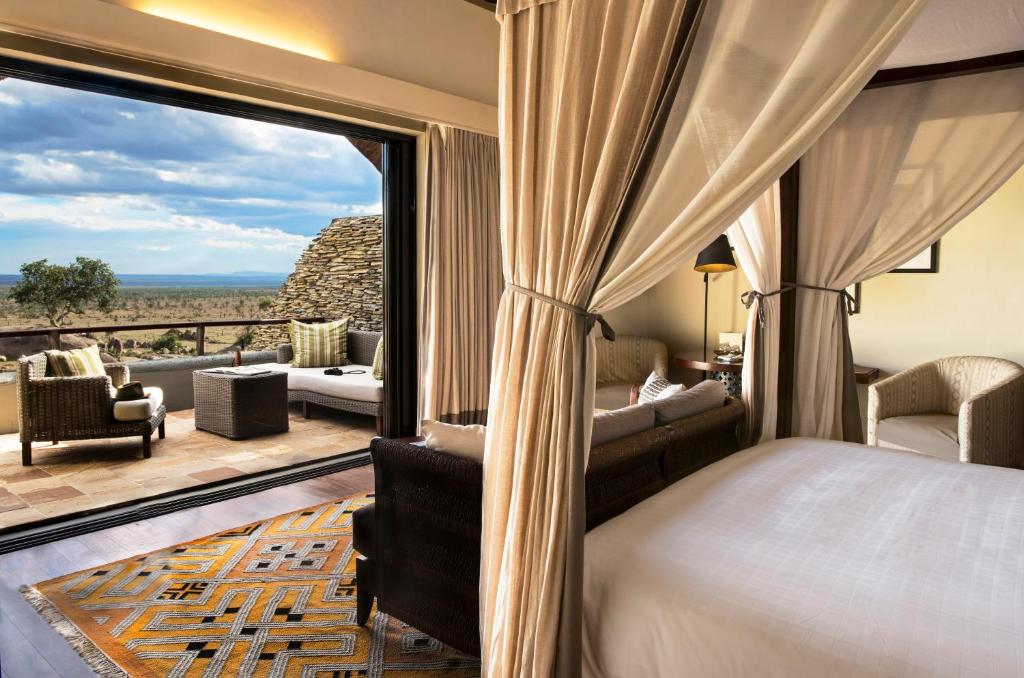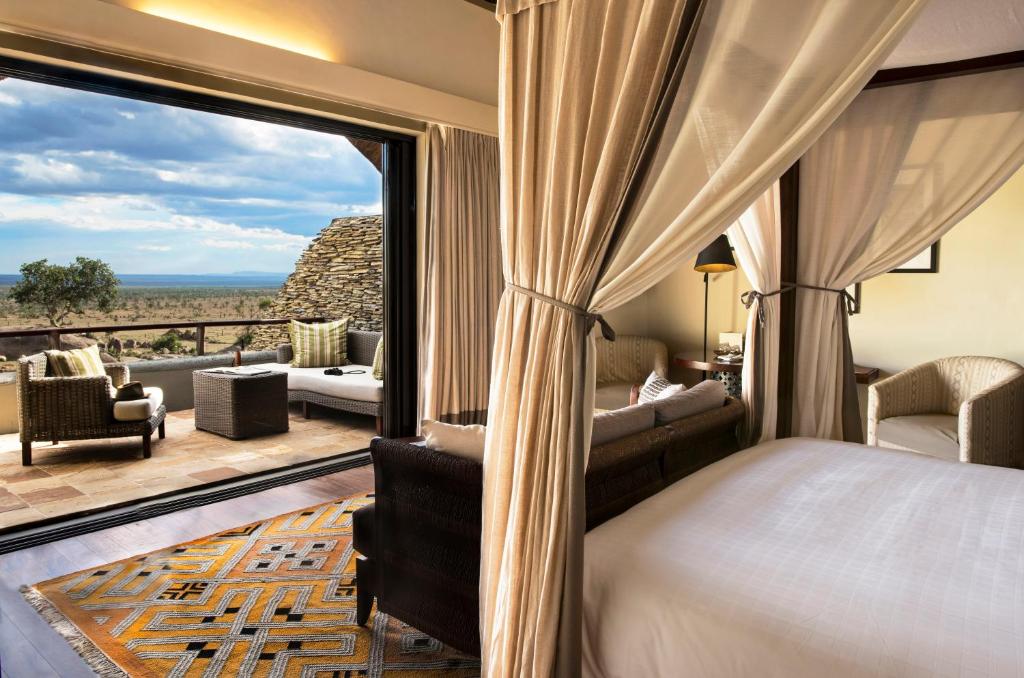 Facilities
Pool facilities & services
Cooking classes, excursions
Spa
Fitness centre
Four Seasons Safari Lodge Serengeti is accessible by connecting flights from three main airports within Tanzania: Arusha Airport (ARK) for domestic flights only, Julius Nyerere International in Dar es Salaam (DAR) and Kilimanjaro International (JRO). Let our on-site reservations specialists make the arrangements to transport you seamlessly to the best-known wildlife sanctuary in the world.